A twist on a classic, this Brown Sugar Pound Cake turns a basic pound cake recipe into a richer, more deeply flavoured cake.
Served with apples that have been carmelised in browned butter and a dollop of cinnamon cream, this is one seriously satisfying pound cake.
It is surprising the difference that substituting brown sugar for white sugar can make in a pound cake recipe. The brown sugar gives the cake  lovely toffee caramel flavours that are further enhanced by adding a little maple syrup.
The sweet rich flavours of the cake are also perfectly complemented by the apples that have been sauteed in browned butter and cinnamon. A little cinnamon sweetened cream and you're there.
Next time you're thinking of making a pound cake, why don't you try substituting brown sugar and enjoy a richer fuller flavour.
This wonderful Brown Sugar Pound Cake recipe is shared by the extremely talented Jane's Sweets.

Brown Sugar Pound Cake Recipe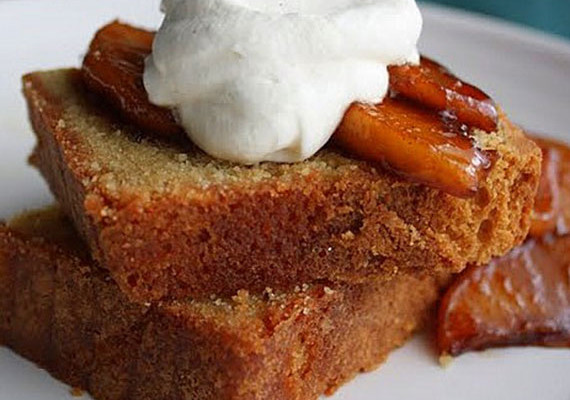 Ingredients
Brown Sugar Pound Cake:
1 lb. (4 sticks) unsalted butter at room temperature
1 and ¼ cup light brown sugar, packed
¾ cup granulated white sugar
1 tbsp. vanilla extract
1 tbsp. real maple syrup
5 large eggs, at room temperature
2 and ½ cups All Purpose flour
¾ tsp. salt
½ tsp. baking powder
For the Sauteed Apples (4 servings):
2 medium size apples, peeled and cored, and sliced into pieces about ¼" thick
¼ cup unsalted butter
¼ to ⅓ cup light brown sugar, loosely packed
2 to 4 pinches ground cinnamon
¼ to ⅓ cup fresh squeezed orange juice
For Sweetened Cinnamon Whipped Cream:
1 cup cold heavy cream
4 tbsp. confectioners' sugar, sifted
2 pinches ground cinnamon