A Sesame Cake that will expand your baking – and eating – horizons.

For me there's nothing better than stumbling across a new recipe, especially when it's an ingenious combination of flavors that I love. I do love cake and I do love sesame, especially black sesame seeds.
Visiting Japan had opened my eyes of the potential uses of black sesame seeds particularly in sweet treats.
There's the steely-grey sesame ice-cream, to the jam-like black sesame seed paste fillings used in mochi (rice cakes) and other sweet delights, to candy made of black sesame. All utterly delicious.
So when I can across this Sesame Cake it was a case of "why didn't I think of that?"
The sesame flavor of the cake comes from both sesame seeds as well as the intriguing use of sesame oil. Sesame oil in a cake? How interesting.
For a light cake the flavor is surprisingly deep, nutty and toasty (thank you sesame oil). The seeds give a lovely texture and look great in the cake. The sesame remind me of poppy seeds through a cake – another favorite of mine.
A quick dust with icing sugar and you're done.
This would be perfect served after an Asian inspired dinner. Or just with a cup of tea in the afternoon.
This lovely Sesame Cake is baked by the talented Dessert First.
Speaking of Japan and cake, have you seen these recipes for adorable Chocolate Mochi Cakes or this fab Japanese Cheesecake?

Sesame Cake Recipe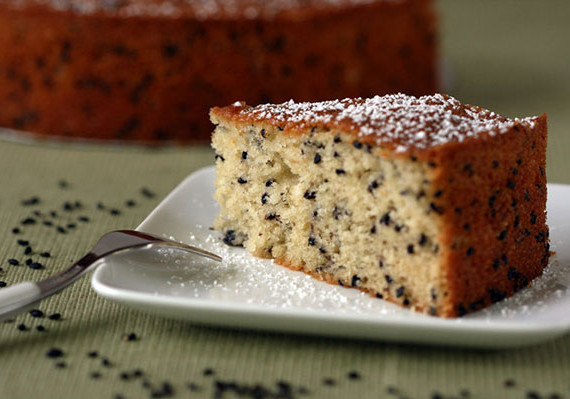 Ingredients
1½ cups flour
½ teaspoon baking soda
¼ teaspoon baking powder
¼ teaspoon salt
2 large eggs, room temperature
2½ teaspoons toasted sesame oil
1 teaspoon vanilla extract
8 tablespoons butter, room temperature
1 cup sugar
½ cup buttermilk, room temperature
¼ cup toasted black sesame seeds