Can you have love at first sight with a cake? That's how I felt about this Cherry Poppy Seed Cake. This has to be one of the best poppy seed cake recipes I've ever come across.
I do love a poppy seed cake. I do love a cherry cake. Put them together and you have this sensational cake.
And it's not just that there are poppy seeds and cherries in this cake. It's that there is an abundance of both – a kilo of cherries (and that's after the pips have been removed) and 120 grams of poppy seeds (let's not forget how light poppy seeds are – 120 grams is a lot).
I was absolutely bowled over when I can across this recipe. The combination of cherry and poppy seeds is inspired. I think that it's fair to say that Aleksandra at Eat Me! has created a masterpiece with this cake.
As well as the great flavor combination, you have contrasting textures with juicy cherries and crunchy poppy seeds. And the colors are pretty great too.
Impressive on so many fronts.
As much as I enjoy citrus poppy seed cakes (and believe me I do), it's great to experiment and go beyond them sometimes and this recipe does just that. As I said, it must be one of the best poppy seed cake recipes I've seen.
The fabulous Aleksandra at Eat Me! shares her Cherry Poppy Seed Cake (scroll down the page for the recipe in English).
For another inventive fruit poppy seed cake take a look at this lovely Strawberry Poppy Seed Cake.

Best Poppy Seed Cake Recipe - Cherry Poppy Seed Cake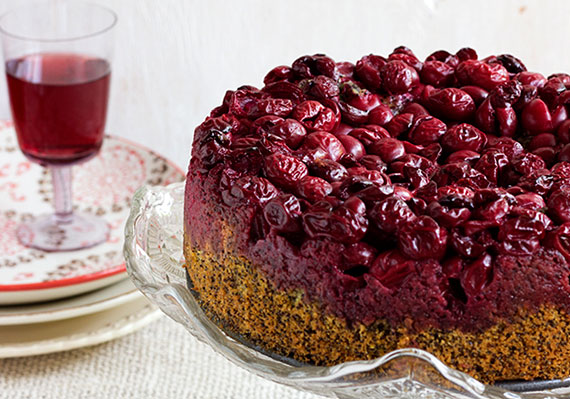 Ingredients
Butter (room temperature)
Brown sugar
Flour
Baking powder
Eggs
Poppy seeds
Vanilla extract
Milk
1 kg cherries (pitted)
Whipped cream (to serve)