A very clever Pomegranate Cake recipe where the color and flavor of pomegranates shine.

While this cake may look mighty impressive, it's actually very easy to make. And very easy to eat too (of course).

Why do I like this particular Pomegranate Cake recipe? Well, there are a few very interesting things going on with this cake.
First up, the cake is eggless so it's perfect for those of you with allergies or for vegans.
Next there's no added sugar in the cake itself – but that doesn't mean it's not sweet. The gentle sweetness comes from condensed milk. Sweetened condensed milk in cakes give a more rounded, deep sweetness. You also get additional sweetness from the fresh pomegranates and the bitter-sweet chocolate ganache.
The pomegranates are used in two ways in this recipe. One pomegranate is juiced and the liquid is used to drizzle over the cake like a syrup. As well as imparting the fruity taste of pomegranates, the juice stains the pale cake which makes for a dramatic effect. Seeds from the second pomegranate are scattered over the dark chocolate ganache. I do love the intense color palette here with the dark chocolate brown and ruby red seeds. Rich and exotic.
One final thing, the chocolate ganache is made in the microwave. I always love that little time saver.
This wonderful Pomegranate Cake recipe is from the baking genius Himanshu over at The White Ramekins.

Pomegranate Cake Recipe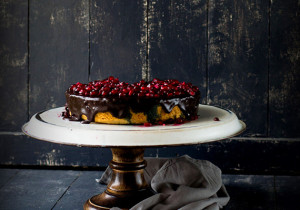 Ingredients
1 cup (140gm) all purpose flour
¾ cup (200 gms) sweetened condensed milk
¼ cup (60ml) melted butter, cooled
1-1/2 tsp baking powder
½ tsp baking soda
1 tsp vanilla extract
⅓ cup ( 5 tbsp/ 75 ml) of water
100 gm dark chocolate, chopped
50 ml low fat cream
2 big pomegranates