Overripe bananas? Here's an easy Banana Loaf Cake recipe to make the most of those old bananas.

Oddly enough, I'm not a huge banana fan but I do love banana cakes.

I like my bananas on the green side of ripe. I can smell a ripe banana at a 100 paces – and I don't like it. Really don't like it. Given my position on bananas, we tend to only keep one or two in the house at any one time. That way, they're eaten before they start to ripen too much.

The downside is when I want to make a banana cake or any other baked banana treat, I don't have a ripe banana ready to go.

So I was quite happy when we went away for a few days and came home to two very ripe bananas (happy apart from the fact that the kitchen smelt strongly of banana).
Visions of banana cake danced in my mind.
The only problem was, it was 39 degrees Celsius (that's over 100 degrees Fahrenheit). Hardly a baking day.
Oh – I have one of those Aga style, 1950's original enamel ovens that serve to warm the house while they're on. Great in winter but just awful in an Australian summer.
Given it's so unusual for me to have overripe bananas ready to go, and knowing the bananas were only going to get riper and smellier in the heat, I decided to go ahead and bake. Such is my commitment to banana cake.
The recipe had to be quick and easy though – a one bowl deal. I wasn't confident about creaming butter and sugar in the heat so I went with an old food processor Banana Loaf Cake recipe I've had for years – handwritten on paper from a school exercise book. Goodness knows where it came from (it's not my writing either).
The Banana Loaf Cake baked up nicely. It was beautifully moist but not too dense. The kitchen was incredibly hot and I did feel a little woozy from time-to-time, but according to my sister, banana cake is worth fainting for (note, she's not the one doing the passing out).
I had some left-over sour cream in the fridge, so decided to frost the banana cake with a lemon sour cream icing. Sour cream frosting is a bit lighter than the more traditional cream cheese frosting, so it's a good option for summer. This frosting recipe has a strong zesty lemon tang – add less zest if you prefer a more subtle lemon flavor. It's lovely and refreshing and goes very well with a few walnuts scattered on top.
An aside, while sour cream frosting is great on hotter days, you should try photographing a cake with sour cream frosting on a 40 degree day. It was a melty mess. A very tasty, melty mess mind you. Please forgive the photos but trust me, the cake and the frosting are seriously delicious and definitely worth the pain of baking on such a hot day.
A Banana Loaf Cake worth fainting for. Can't say that too often.
For more great banana cakes, have a look at our ever growing recipe collection here.

Banana Loaf Cake Recipe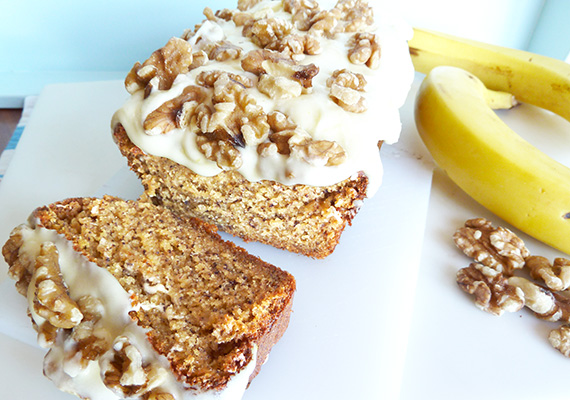 Ingredients
For the Banana Loaf Cake:
125g butter, at room temperature
¾ cup caster sugar
2 large overripe bananas, mashed
2 eggs
1 tsp vanilla
100ml buttermilk (or 100ml milk plus teaspoon of white vinegar or lemon juice, left to curdle for 5 minutes)
1½ cups self-raising flour
½ tsp bicarbonate of soda
For the Lemon Sour Cream Frosting:
2 cups powdered sugar
⅓ cup sour cream
2 tbls butter, softened
Approx 1 tsp. of lemon zest (to taste - 1 tsp. gives quite a strong lemon taste. Start with half and see how you like it before adding the full amount).
Walnuts to decorate (optional - but delicious).
Instructions
Step 1 - Preheat oven to 180°C. Grease and line the base and sides of a loaf pan with non-stick baking paper.
Step 2 - Place butter, sugar, banana, eggs and vanilla in the food processor. Process for 1 minute. Add the buttermilk (or substitute) and process until combined.
Step 3 - Add the flour and bicarb soda to the food processor, and process until only just combined.
Step 4 - Pour the batter into the prepared loaf pan. Bake in oven for approx 45 mins. Perform a skewer test.
Step 5 - Allow to cool in the pan for 10 minutes. Transfer to a wire rack to cool completely.
Step 6 - To make the Lemon Sour Cream frosting, using an electric beater, beat the sour cream and butter in a bowl until well combined. Add the icing sugar and beat until well combined, pale and creamy. You may need to add more icing sugar to get the desired consistency. Add the lemon zest to taste.
Step 7 - When the cake is completely cool, spread the Lemon Sour Cream frosting over the top of the cake. Decorate with walnuts if desired.