One for all you carrot cake purists out there. Carrot cake without nuts, pineapple, walnuts, coconut, cinnamon, raisins etc etc etc.
Out of all the optional extras, there seems to be two main ingredients that people object to being included in carrot cakes – pineapple and nuts.
I'm often asked for both a carrot cake recipe without nuts, as well as a moist carrot cake recipe without pineapple (I have also been asked for a carrot cake without carrots but I'm not sure if that was a joke email – I'm assuming it was).
This is the perfect "without" recipe as it leaves out everything else – even cinnamon.
Ok – I admit that it's not quite a "pure" carrot cake – whatever that means. There's a smidge of applesauce in the cake (well a cup actually), but other than that, this cake is just carrot and cake. That much applesauce plus two cups of sugar does make this a sweeter verion than my normal. Sweeter, but delicious.
And one thing that did surprise me here is the six egg whites that are used. I tend to baulk at baking cakes with more than 4 eggs, especially when it's only one part of the egg that's used (does anyone else feel the pressure of having to use up extra egg yolks or whites?)
Everyone has their own idea of the perfect carrot cake recipe and whether it can include the added extras. As for me, I like to have a whole host of recipes to call on, so this stripped-back version is definitely part of my repertoire.
This version of carrot cake is baked with love by Mary Mary Quite Contrary.
If you do enjoy a few delicious extras in your home-made carrot cakes, maybe I can tempt you with this gorgeous recipe, or how about this spectacular multi-layer Hawaiian Carrot Cake.

Just Carrot Carrot Cake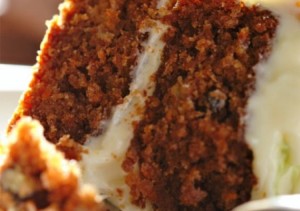 Ingredients
2 cups flour
2 cups sugar
2 tsp baking soda
2 tsp cinnamon
½ tsp salt
½ tsp allspice
1 cup applesauce
½ cup vegetable oil
6 egg whites
3 cups peeled, grated carrots