If you want to know how to make a chocolate cake from scratch, you should have a look at this cake recipe.

Traditionally known as a chocolate vinegar cake, it's a rich, moist and simple chocolate cake that Grandma would be proud of.
This is an old fashioned chocolate cake recipe that's been around for generations. This recipe is tried and true.
It uses an age-old technique of adding vinegar to the cake. Chocolate vinegar cakes have been around forever. Don't let the idea of vinegar in a chocolate cake put you off trying this. The vinegar is important for some of the science behind this cake. You absolutely cannot taste the vinegar but it gives the cake its beautiful texture. You've probably had a chocolate vinegar cake before without even knowing it.
A classic chocolate cake recipe that you can make from scratch and proves that the simple things are often the best, especially when it comes to chocolate cake.
The cake master behind this delicious chocolate cake recipe from scratch is Alaina Sullivan at Palate, Palette, Plate.
Are you looking for more utterly amazing chocolate cake recipes like this one? How about this wonderful Chocolate Buttermilk Cake. Prepare to swoon.

How to make a chocolate cake from scratch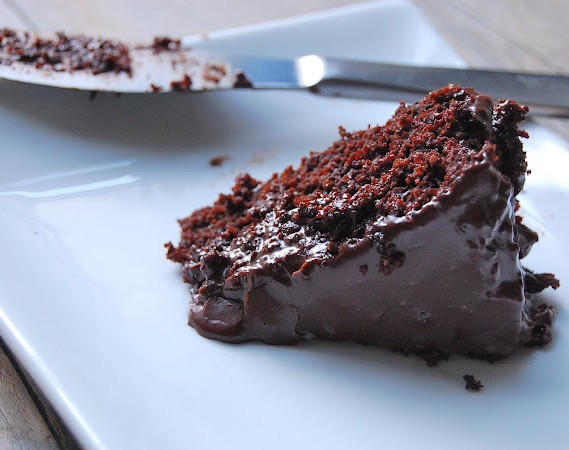 Ingredients
For the Cake:
¾ cup butter
2 cups sugar
1 egg
2½ cups flour
1 tsp baking soda
½ cup cocoa powder
½ tsp salt
1 tsp vanilla
1½ cups water
2 scant Tbsp vinegar
For the Mocha Frosting:
1½ cups powdered sugar
¼ cup unsalted butter
⅓ cup cocoa powder
¼ cup brewed coffee
ground coffee, to taste

Happy baking!