Pear and blackberries are a wonderful combination and baking these fruits intensifies their flavours incredibly. Blackberries turn into little pockets of dark purple-red jammy love and the pear adds a gentle flavor and lovely silky texture to the cake.
Buttermilk makes this a luscious and beautifully moist upside-down cake.
Upside-down cakes are part of my secret baking arsenal. They are unbelievably tasty, very easy to make and you can use pretty much any fruit you have around for the feature (or try that magnificent vegetable rhubarb). If you're looking for more upside-down cake recipes, you might like to check out our collection here.
This Blackberry Pear Upside-Down Cake is brought to you by the baking talents of Cosmo Cookie.

Blackberry Pear Upside-Down Cake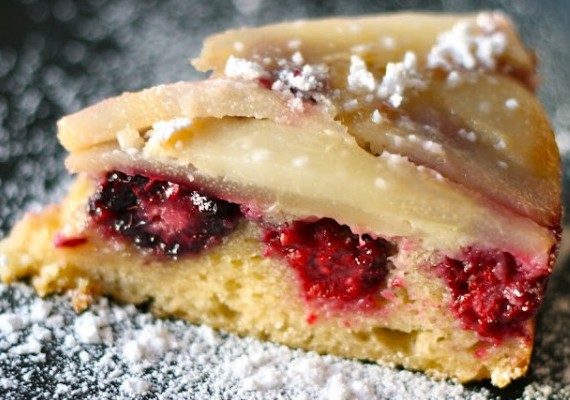 Ingredients
1½ cups fresh blackberries
3 pears, sliced lengthwise
½ cup + 1½ tablespoons sugar
1 cup all-purpose flour
½ teaspoon baking soda
¼ teaspoon salt
½ stick (1/4 cup) unsalted butter, softened
1 large egg
1 teaspoon vanilla
1 teaspoon cinnamon
½ cup well-shaken buttermilk

Happy baking!