I'm a big fan of drizzle cakes and this Blueberry Lemon Drizzle Cake recipe is one of my favorites.
The effort to taste ratio with drizzle cakes is extremely good – little effort but loads of taste.
And this Blueberry Lemon Drizzle Cake is no exception. The recipe makes for a super simple, no-fuss cake (or some may say bread), with lots and lots of flavor thanks largely to the lemon syrup that's poured over the still warm cake. Then there's the lemon icing for extra kick.
This is a very versatile recipe – if you don't have fresh blueberries, use frozen – or  substitute for whatever berries you may have. Alternatively, leave the berries out all together for a plain lemon drizzle cake. The recipe also makes a helpful suggestion on how to turn this into a Lemon Poppy Seed Drizzle Cake. Easy. Easy. Easy.
This great Blueberry Lemon Drizzle Cake is from the ever talented Jessica at Portuguese Girl Cooks.
If you have a weakness for lemon cakes like I do, take a peek at our lemon cake recipe collection or expand your baking horizons with some other zesty citrus cake recipes like pink grapefruit, tangerine, or lime cake.

Blueberry Lemon Drizzle Cake Recipe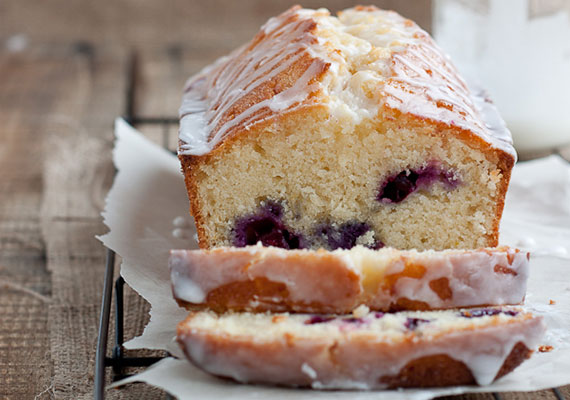 Ingredients
For the cake:
All purpose flour
Baking powder
Kosher salt
Unsalted butter
Granulated sugar
Lemon zest
Eggs
Milk
Vanilla extract
Blueberries
For the Syrup:
Lemon juice
Granulated sugar
For the Glaze:
Confectioners sugar
Lemon juice