As far as blackberry cake recipes go, this Blackberry Coffee Cake is sure to delight. And if you like a lot of crumb with your blackberry cake, read on my friends.

This is a lovely Blackberry Coffee Cake that is beautifully moist and gently spiced with vanilla and cinnamon. But what makes me smile is the thick layer of juicy blackberries topped by an even thicker layer of crumble. Yes, yes, yes.
The berries and batter swirl together and produce a delightful marbled effect throughout the cake.
The crunchy crumble topping with almonds is great for a texture contrast, and it tastes great too.
This is a great cake recipe for substitutions. No blackberries – how about blueberries. No fresh fruit – use frozen. No almonds for the crumble – use walnuts. Variations abound, but deliciousness is absolutely guaranteed.
This cake is a coffee cake in that in goes well with a cup of coffee. There's absolutely no coffee in the cake.
This Blackberry Coffee Cake is baked with love by Kitchen Trial and Error.
If it's blackberry cake recipes that you're after, how about a blackberry upside-down cake? You can find one here.

Blackberry Coffee Cake Recipe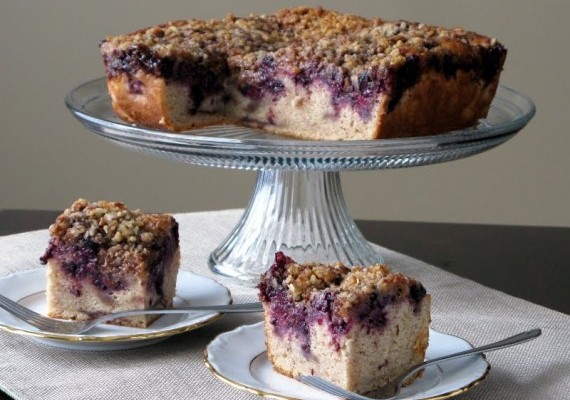 Ingredients
For the topping:
½ cup slivered almonds
⅓ cup brown sugar
¼ cup flour
2 tablespoons cold unsalted butter
For the cake:
½ cup cold unsalted butter cut into pieces
2 cups all purpose flour
1 cup sugar
2 teaspoons baking powder
1 teaspoon kosher salt
½ teaspoon ground cinnamon
2 eggs
1 cup whole milk
1 teaspoon vanilla extract
3½ cups blackberries (about 1 pound)

Happy baking!