This. Is. A. Fantastic. Cake.
It combines three of my favourite things – raspberries, home-made lemon curd and cake.
The tang and tartness of the lemon curd contrasts beautifully with the sweet and jammy pockets of raspberries.  Bliss.
Note that this is another mini cake. It uses 4 inch cake pans. If you play around with the quantities to make a bigger cake, adjust the baking time and watch it closely.
The super talented I Am A Food Blog shares this amazing Raspberry Lemon Cake.

Raspberry Lemon Cake Recipe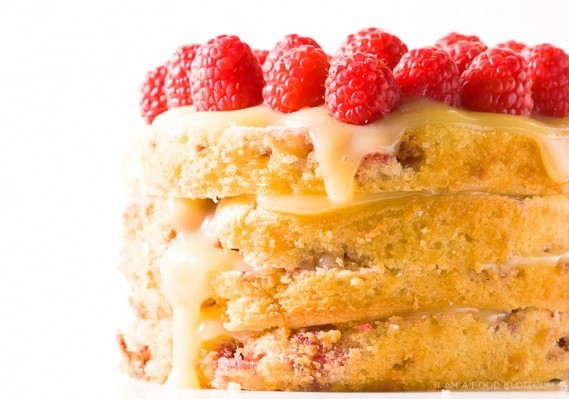 Ingredients
1 cup + 3 tablespoons all purpose flour
1 teaspoon baking powder
½ teaspoon salt
1.5 cups raspberries
¼ cup sour cream
¼ cup milk
1 teaspoon vanilla
1 teaspoon lemon zest
½ cup butter, room temperature
¾ cups sugar
2 eggs
Lemon Curd Recipe
1 tablespoon lemon zest
½ cup fresh lemon juice
½ cup + ⅙ cup sugar
2 eggs
7 tablespoons butter, cut into small pieces

Happy baking!