A gorgeous Chocolate Almond Torte recipe for a cake that will be remembered long after the final slice has disappeared.

I'm always drawn to cakes that use nothing more than a dusting of powdered sugar to finish. It's testament to the cake itself – a cake that doesn't need extra adornment or embellishment.
A cake that's perfect just as it is.
And this Chocolate Almond Torte is indeed perfect. Moist and chocolatey but not too sweet, the splash of coffee liqueur adds to the richness of the flavor while the ground almonds give the cake a lovely texture.
Did I mention that this delicious morsel is gluten free too?
The always inspiring Vintage Kitchen Notes shares this Chocolate Almond Torte recipe.
For another cake that needs nothing more than a sprinkle of sugar on top, take a peek at this wonderful Condensed Milk Cake.

Chocolate Almond Torte Recipe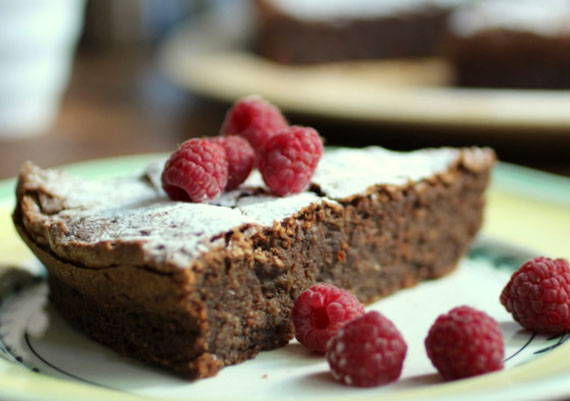 Ingredients
6oz. (170g) bittersweet chocolate, finely chopped
2 teaspoons coffee powder
¼ cup coffee liqueur (such as Kahlua)
6oz. (170g) unsalted butter, softened
13 Tbs (185g) sugar
6 large eggs, separated
¼ teaspoon salt
6oz. (170g) toasted almonds, finely ground
1 cup fresh raspberries, to serve
Confectioners´ sugar, for dusting