If you're looking for cakes for afternoon tea than look no further than this lovely Grapefruit Cake recipe. A very enjoyable and surprising tea time cake. The cake alone is gorgeous and the grapefruit glaze is spectacular.
As a massive citrus cake fan I was delighted to come across this tea cake recipe – grapefruit is often neglected in baking.
The flavours here are all very gentle and the grapefruit cake is not too sweet.
There's grapefruit juice and zest in the cake, and juice and zest in the glaze as well. The cake is also served with grapefruit segments. Choose a ruby grapefruit for a lovely pink hue.
A delicious – and a little different – afternoon tea cake.
This Grapefruit Cake is from the creative baking talents of dlyn.

Grapefruit Cake Recipe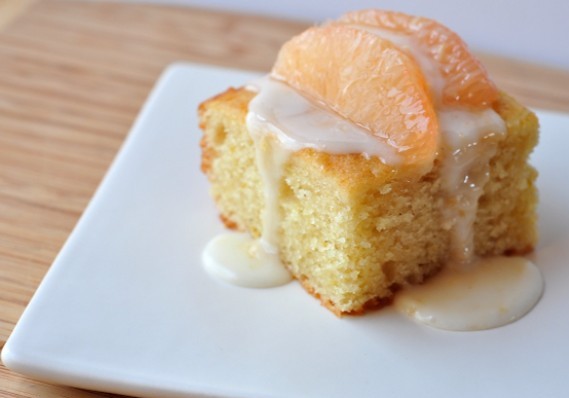 Ingredients
For the Grapefruit Cake:
¾ cup of granulated sugar
zest from one grapefruit [about 4 teaspoons]
4 ounces soft butter
2 large eggs
½ cup sour cream
¼ cup fresh grapefruit juice
½ cups all purpose flour
1 teaspoon baking powder
½ baking soda
½ teaspoon salt
½ teaspoon ground cardamom
For the Glaze:
1 cup confectionery sugar
1 teaspoon grapefruit zest
1-2 teaspoons grapefruit juice
To serve:


Happy baking!