Imagine starting your day with this Raspberry Almond Breakfast Cake. That would make for a happy day indeed.

This lovely muffin-like cake is decorated with a simple icing made interesting by almond extract.

I love the sprinkling of freeze dried raspberries for a burst of colour against the white icing. Freeze dried berries have an intense taste and add a great flavour zing to baked goods. You can find them in high end grocers or gourmet food stores, or you can get them here too: Freeze Dried Raspberries
If you wanted to, you could substitute flaked almonds for the white chocolate shavings (you know, given it's for breakfast and all).
Watch the recipe – it's for a 6 inch cake. If you want a bigger cake you'll need to adjust both ingredients and baking time.
The breakfast cake genius behind this gorgeous Raspberry Almond Breakfast Cake is the talented The Fromagette.
Raspberry Almond Breakfast Cake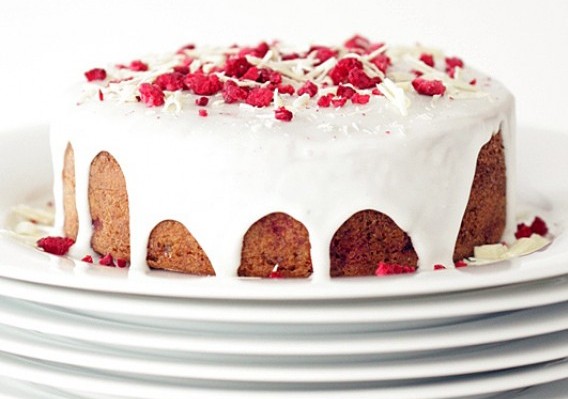 Ingredients
For the Cake:
½ cup sugar
2 T butter, room temperature
2 eggs, room temperature
¼ cup low-fat buttermilk
1 tsp vanilla
½ cup flour
½ cup almond meal
1 tsp baking powder
½ tsp baking soda
pinch of salt
½ cup halved fresh raspberries
For the Glaze:
¾ cup powdered sugar
1 T cream or milk – whatever's in the fridge
⅛ tsp almond extract
For the Garnish:
¼ square Baker's white chocolate
sprinkle of freeze-dried raspberries

Happy baking!