Oh my. Oh my. Oh my. This is decadence personified.

It's not often you get something so tempting and rich that's not over-the-top chocolate. But that's what you find here with this Pecan Chocolate Chip Butter Cake.
"Gooey" is the perfect work for the lush centre of the cake. Delicious.
It is rich – there's a lot of butter and egg yolk going on, plus some cream cheese. Add in the crushed nuts (rich in themselves) and chocolate chips and you have a whole lot of deliciousness.
This is a great recipe for those "bring a plate" type gatherings. Just don't expect any lefft-overs.
The cake genius behind this recipe is Evil Shenanigans, whose motto on their website is that sometimes it is good to be bad. Indeed!
For another lush slice recipe, try this Chocolate Nutella Hazelnut Brownie – (you'll either love me forever or curse me for sharing this recipe).

Pecan Chocolate Chip Gooey Butter Cake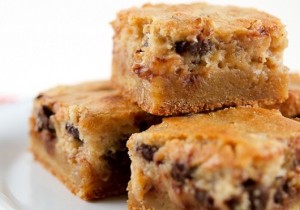 Ingredients
For the base:
1 cup plus 2 tablespoons all-purpose flour
½ teaspoon baking powder
¼ teaspoon baking soda
¼ teaspoon salt
¾ cup packed light brown sugar
4 tablespoons butter, softened
1 egg
1 egg yolk
1 teaspoon vanilla
For the topping:
2 ounces cream cheese, softened
2 tablespoons light corn syrup
1 teaspoon vanilla
6 tablespoons butter, melted
½ cup packed light brown sugar
¼ teaspoon salt
1 egg yolk
½ cup all-purpose flour
½ cup crushed pecans
½ cup chocolate chips
Instructions
For the full recipe go here.