A Pistachio Cake recipe to beat them all, this is one of my favourite ways to enjoy that delicious green nut.
An easy to make, moist cake that has a good amount of ground pistachio meal in the cake itself and more pistachios used as decoration.
The original recipe calls for almond meal in the cake. If you're a fan of pistachio cake like I am, you might want to adjust the quantity of almond meal so that the cake is more pistachio than almond. Works a treat.
I recommend the alternate topping suggested in the recipe that combines the exoticness of rose water, cinnamon, honey and pistachios. Heaven sent (and scent).
This delicious Pistachio Cake recipe is brought to you by The Little Teochew.
If you're looking for more great pistachio cake recipes, may I suggest this Pistachio Cake with Mandarin Syrup and Figs.

Pistachio Cake Recipes: Almond Pistachio Cake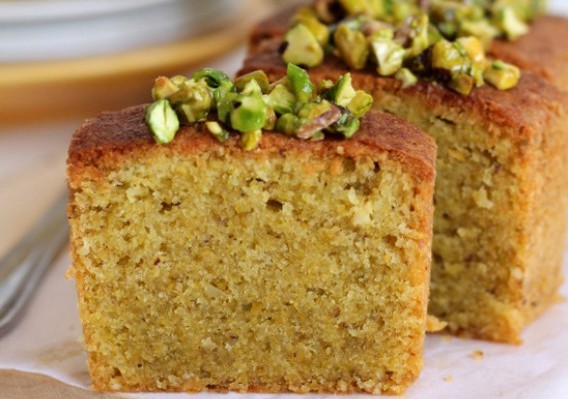 Ingredients
For the cake:
250g butter, softened
200g caster sugar
4 eggs, beaten
120g ground almonds
100g ground pistachio nuts
50g plain flour
1 tsp baking powder
Grated zest of 2 lemons
For the pistachio topping:
1 or 2 tbsp honey (enough to coat the pistachios)
A pinch of cinnamon
A drop or 2 of rosewater
60g pistachio nuts (or more, if you like), roughly chopped

Happy baking!