I came across this extraordinary looking chocolate cake on Cupcakes and Cashmere and I was intrigued. Emily describes this cake as the "most decadent cake I've ever tasted".

Now Emily knows a bit about indulgences (her blog is called "Cupcakes and Cashmere" after all), so I read on. What is it about this Brooklyn Chocolate Cake that's so very special?

While it may be decadent, it was the claims that it's an incredibly difficult cake to make that really made me interested.

The recipe is originally from The Mom 100, where Katie Workman describes this cake as "a big, fat pain in the butt" and says it's so difficult, she still suffers from PTCS: "post-traumatic cake syndrome."
Post traumatic cake syndrome?
Wowsers. That must be one seriously difficult cake recipe.
And you know what? I beg to differ.
Sure, there's a lot to each of the three components of the cake – chocolate cake, frosting and filling, but no stage requires any super-advanced cake baking skills or specialist techniques.
Ok, so it's not a recipe for a beginning baker, but if you've got a few cakes under your belt and you're looking for a baking challenge, don't let the claims about how hard this cake is to make put you off.
Make sure you leave yourself enough time, read the recipe thoroughly (and repeatedly) and don't rush.
Give it a shot and let me know how you get on. Remember you can always transform a chocolate cake that doesn't turn out into a chocolate trifle!
For another recipe that's also a bit of a baking challenge – and guaranteed to satisfy the chocoholics in your life, take a look at this Seven Sins Chocolate Cake.

Brooklyn Chocolate Cake Recipe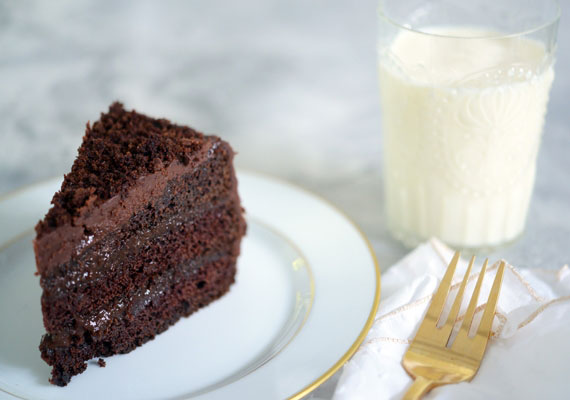 Ingredients
For the Chocolate Cake:
½ cup unsweetened Dutch-process cocoa powder
2 tablespoons boiling water
2 ounces unsweetened chocolate, chopped
¾ cup milk
1 cup (2 sticks) unsalted butter, softened slightly
2 cups sugar
4 large eggs, separated
2 teaspoons vanilla extract
2 cups all-purpose flour
1 teaspoon baking powder
1 teaspoon baking soda
1 teaspoon salt
For the Chocolate Filling:
1 tablespoon plus 1¾ teaspoons unsweetened Dutch-process cocoa powder
2 cups boiling water
¾ cup plus ½ teaspoon sugar
1 ounce bittersweet chocolate, chopped
2 tablespoons cornstarch dissolved in 1 tablespoon cold water
¼ teaspoon salt
1 teaspoon vanilla extract
2 tablespoons unsalted butter
For the Chocolate Frosting:
12 ounces semisweet chocolate, chopped
12 tablespoons (1½ sticks) unsalted butter
½ cup hot water
1 tablespoon light corn syrup
1 tablespoon vanilla extract
Instructions
For the full recipe go here