An unbelievably delicious cake that combines a moist chocolate cake, layered with a nutella spiked with raspberry jam. Add a dark chocolate ganache and some chopped hazelnuts to compliment the nutella centre and provide some crunch, and everyone will be begging for more.
With all these layers and layers of deliciousness, this would make a utterly fantastic birthday cake.
Nutella and raspberry is a great flavour combination that you don't see very often. But given how utterly divine this cake was, I'll certainly be playing with these two ingredients some more.
This divine Chocolate Cake with Raspberry Nutella Filling and Chocolate Ganache is brought to you by the very talented Joanne at Eats Well With Others.

Chocolate Cake with Raspberry Nutella Filling and Chocolate Ganache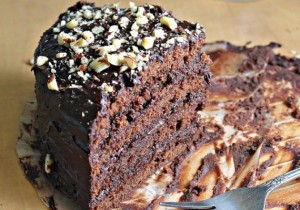 Ingredients
3 eggs
2 cups cake flour
½ cup dark, unsweetened cocoa powder
1 tbsp baking powder
¾ tsp salt
¾ cup unsalted butter, softened
1¼ cups granulated sugar
2 tsp vanilla bean paste or vanilla extract
4 oz bittersweet chocolate chips, melted
1½ cups almond milk or regular milk
2 cups Nutella, warmed slightly
1 cup raspberry preserves, warmed slightly
⅔ cup heavy whipping cream
8 oz bittersweet chocolate chips
¾ cup finely chopped hazelnuts