If you're a fan of those little gold chocolate hazelnut balls, you're going to love this Ferrero Rocher Cake.

While it may seem very fancy, here's a secret – my version of Ferrero Rocher Cake is incredibly easy to make. You can use any old chocolate cake you want to (even – cough-cough – a store-bought one). It's what you do to the chocolate cake that turns it into a Ferrero cake.
Basically, the key to a Ferrero Rocher cake is the filling. And here's where your friend Nutella comes in.
Think about Ferrero Rocher chocolates for a second. They're essentially chocolate and hazelnut – exactly what Nutella is. So we use Nutella as the base for the filling and add a few extras. Very easy and very tasty.
The other element of Ferrero Rocher chocolates is the wafer biscuit. Sweet wafer biscuits are easy to find in your local supermarket and they're not expensive. I use these hazelnut ones, but vanilla or chocolate would be fine too (just not the pink strawberry or lemon ones).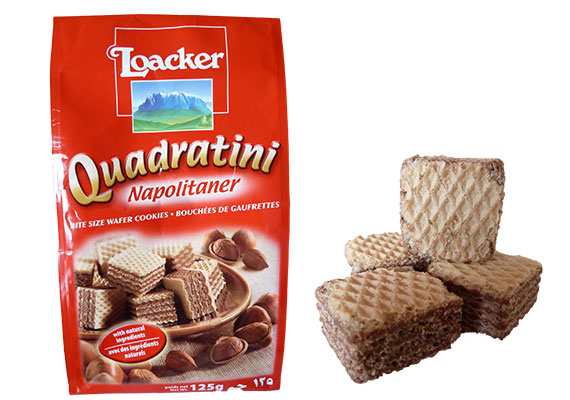 The Ferrero Rocher cake filling is simply made by adding chopped wafer biscuits to the Nutella. A little cream loosens the mixture a bit so it's more spreadable. That's it! The hardest part making the filling is not too eat too much of it.
Spread a layer of the filling between each layer of cake (I've had great success with both double and triple layered cakes – today's version is a double layer). You can see the filling between the layers and I like to add it to the top of the cake too. It's a good way to secure the chocolate balls to the cake.
Cover the cake in a chocolate ganache and add few Ferrero chocolates for decoration and you're done. I halve the chocolate balls – it means you don't need as many (three is usually enough) and they sit better on the cake.
Told you it was easy.
You could add some chopped hazelnuts if you wanted to, but I don't think it's really necessary. Nutella gives the cake filling a distinct hazelnut flavor and the wafer biscuits in the filling give you a nice crunchy texture contrast.
Make sure you serve the cake at room temperature so there's a soft gooeyness to the filling. It's very rich so a thin slice is usually enough – you can always go back for more.
As I mentioned, you can use pretty much any chocolate cake for this easy Ferrero Rocher Cake. For the cake pictured here I used this Plain Chocolate Cake recipe. It's made in the food processor so it's really quick and easy. I'd recommend using a cocoa based chocolate cake. The Nutella and wafer filling is the star attraction and tends to overpower the cake itself.
Ferrero Rocher cake is a crowd-pleaser for sure and never fails to impress. Those chocolate spheres are very recognizable – and widely loved. Whether or not you tell people how easy this cake is to pull together is entirely up to you.
Enjoy!

Ferrero Rocher Cake Recipe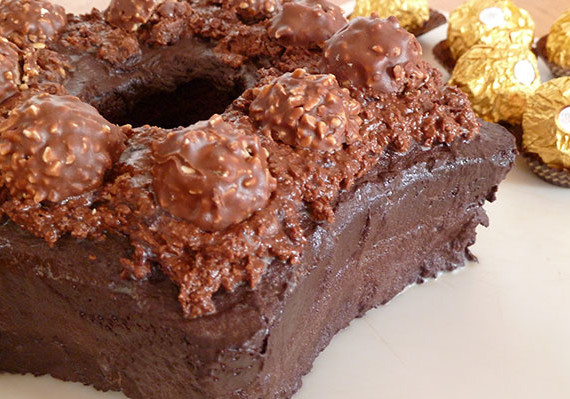 Ingredients
Plain Chocolate Cake - split into 2 or three layers.
For the Ferrero Rocher filling:
1 cup Nutella
100 grams wafer biscuit (hazelnut, vanilla or chocolate), roughly chopped and crushed. You want a combination of larger and smaller crushed pieces.
Cream as needed to loosen the mixture (about 2 teaspoons)
For the Chocolate Ganache:
260 grams dark chocolate (either semi sweet or bitter sweet depending on your tastes), chopped into small pieces
¾ cup heavy cream
To decorate:
3 Ferrero Rocher chocolates (halved)
Instructions
For the Ferrero Rocher Filling:
Step 1 - Combine Nutella and chopped/crushed wafer biscuits in a medium sized bowl. Mix thoroughly breaking up the wafers further as required. You want the mixture to resemble the outside of a Ferrero Rocher chocolate in texture.
Step 2 - Depending on the texture of your mixture, add small amount of cream to loosen. Stir vigorously. Add more cream if necessary. You want a thick but spreadable paste.
For the Chocolate Ganache:
Step 1 - Place chopped chocolate pieces in a large bowl. Set aside.
Step 2 - In a heavy-based saucepan, over medium high, heat cream to just below a boil.
Step 3 - Just before the surface of the cream begins to bubble, remove from heat and immediately pour the cream over the chocolate pieces. Stir thoroughly until completely combined. The chocolate cream mixture should be smooth and glossy (don't ever put the bowl back over the heat as you will cook your ganache and lose its gloss and smoothness).
Step 4 - Allow ganache cool in the refrigerator (NOT the freezer, never ever ever the freezer as it will go super lumpy). The longer you let the ganache cool the thicker and harder it will become - you want a soft butter consistency so it's still spreadable.
To assemble:
Step 1 - Spread a layer of the Nutella filling between each of your cake layers (about one centimeter/half-an-inch thick). Assemble cake.
Step 2 - Cover the assembled cake in ganache. Smooth ganache with a knife that has been warmed in hot water.
Step 3 - Add any left-over filling to the top of the cake.
Step 4 - Arrange the halved Ferrero Rocher chocolate balls to the cake.
Step 5 - Refrigerate until set.
Step 6 - One hour before serving, remove the cake from the refrigerator. The cake should be served at room temperature.