A Plain Chocolate Cake recipe that's super simple to whiz-up in your food processor.

I love making cakes in the food processor – no creaming of sugar and butter. No "folding gently". Just pop it all in and whiz away – a few 20 second bursts and you're done. It doesn't get much better than that.
It's easy. It's quick. It's delicious. There's minimal washing up. Perfect!
Technically, this Plain Chocolate Cake recipe is really a cocoa cake. While there's no solid chocolate in this cake, it's surprisingly rich for a cocoa chocolate cake.
The recipe also uses canola oil which gives a moist, dense cake with a very fine crumb. The batter is also fairly runny – it's supposed to be that way so don't worry about it.
Be warned, the recipe makes for a lot of batter so you'll need a large pan. It's actually enough to make a double layer cake. Or a big, single layer cake to feed a crowd. Today, I decided to make two single layer cakes – one for me, and one for a friend (remember cake karma?).
I do love whizzing up a cake in a food processor. It seems like cheating it's so easy. Here's my trusty old Moulinex with the chocolate cake batter (you can see how runny and smooth the batter is).
Using a food processor for cakes is all about keeping it simple. So in this spirit, finish your chocolate cake with a light dusting of cocoa or drizzle some melted chocolate over the top as I did here. Or don't finish it with anything at all and go naked – the cake that is (but whatever floats your boat).
By the way, depending how you decorate your chocolate cake, this recipe is dairy free too. It just keeps getting better and better doesn't it?
Plain Chocolate Cake Recipe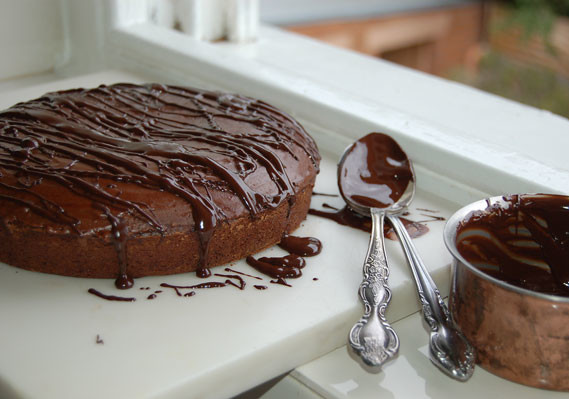 Ingredients
1½ cups castor sugar
¾ cup cocoa
1 teaspoon salt
¼ cup canola oil
1½ cups water
2 eggs, beaten
1½ teaspoons vanilla essence
2 cups self-raising flour, sifted
Instructions
Step 1 - Preheat your over to 180 degrees C.
Step 2 - Grease and line a large cake pan (or two small pans).
Step 3 - In the food processor bowl, add sugar, cocoa and salt. Whiz for 5 seconds (or pulse) to mix.
Step 4 - Add the oil, water, beaten eggs and vanilla essence to the dry mixture in the food processor. Mix for 20 seconds until well combined and smooth.
Step 5 - Add the flour and mix for 5-10 seconds. You want the flour to be just combined with the batter. The less you need to process it the better so if after 5 seconds the flour has mixed in properly, don't whiz it any more. The batter will be quite runny.
Step 6 - Pour the mixture into your cake pan/s.
Step 7 - Bake for 25-30 minutes.
Step 8 - Perform a skewer test. The skewer/toothpick/knife should come out clean of batter.
Step 9 - Allow cake to cool in the pan.
Step 10 - Once cool, remove the cake from the pan and decorate as desired.