A gorgeous layered blueberry cake that's a definite crowd-pleaser.
With 8 ounces of cream cheese in the cake and more for the frosting, this is a cream-cheese-cake-lover's dream.
There are a few of things I particularly like about this recipe (besides the cream cheese extravaganza of course). The cake is perfectly light yet moist thanks to the combination of cream cheese, butter and buttermilk. That's a whole lot of dairy goodness.
And if the cake alone wasn't enough to tempt you, the cream cheese frosting is flavored with browned butter to give a it a caramel richness that is spoon-licking good. I have a theory that everything is better with browned butter, and this frosting certainly proves my point.
Finally, there are the blueberries – fresh and sweet, and oh-so pretty as decoration. While fresh berries are delightful, you could used frozen berries in the cake if you need to.
This recipe is shared by the always lovely Katie at Veggie and the Beast Feast.
Looking for more blueberry cakes? Look no further than The Answer is Cake's blueberry cake recipe collection.

Blueberry Cream Cheese Cake Recipe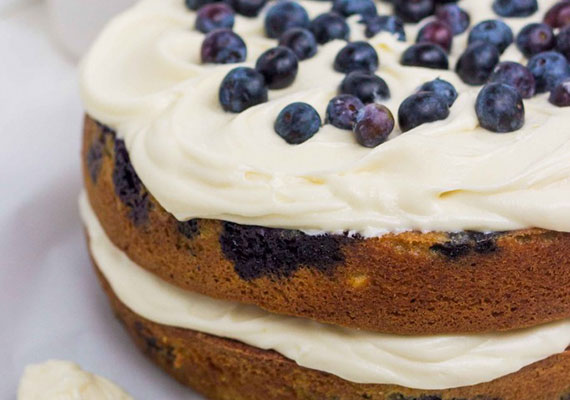 Ingredients
For the Blueberry Cream Cheese Cake:
All-purpose flour
Baking powder
Baking soda
Salt
Ground cinnamon
Unsalted butter, softened
Cream cheese, softened
Granulated sugar
Light brown sugar
Eggs
Vanilla extract
Buttermilk
Blueberries, tossed in cornstarch
Extra blueberries for garnish
For the Brown Butter Cream Cheese Frosting:
Cream cheese, softened
Butter
Powdered sugar
Vanilla extract
Heavy whipping cream