The best Red Wine Chocolate Cake recipe going.

Love red wine? Love chocolate cake? Well this Red Wine Chocolate Cake has your name all over it.

Here you have rich chocolate cake that is spiced with cinnamon and almost a cup of red wine. The spice, chocolate cake, red wine flavour combination is heady and intoxicating – no, really, it is. The red wine flavour in the cake is prominent but not at all overpowering. This is an intensely flavoured cake and best served in small slices.
This Red Wine Chocolate Cake is a cake for developed palates that enjoy more complex flavours. Definitely not a cake for the kiddies.
Served with sweetened mascarpone cream, this Red Wine Chocolate Cake is pure love. What an utter genius idea. How can you resist.
I was always told that if you wouldn't drink the wine, don't cook with it either. That holds very true here for this recipe too. Make sure you use a good red wine that you would be more than happy to sip from a glass as well as eat in a cake.
The cake expert behind this delicious Red Wine Chocolate Cake recipe is Smitten Kitchen.
On the look-out for more utterly amazing chocolate cake recipes? The Answer Is Cake's 10 Best Chocolate Cake Recipes will make you swoon.

Red Wine Chocolate Cake Recipe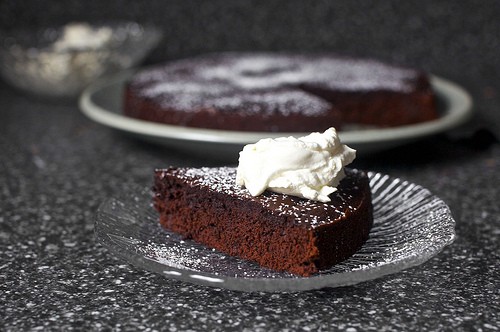 Ingredients
For the Cake:
6 tablespoons (85 grams) unsalted butter, at room temperature
¾ cup (179 grams) firmly packed dark brown sugar
¼ cup (50 grams) white granulated sugar
1 large egg + 1 large egg yolk, at room temperature
¾ cup (177 ml) red wine, any kind you like
1 teaspoon (5 ml) vanilla extract
1 cup + 1 tablespoon (133 grams) all-purpose flour
½ cup (41 grams) Dutch cocoa powder
⅛ teaspoon baking soda
½ teaspoon baking powder
¼ teaspoon table salt
¼ teaspoon ground cinnamon
For the Topping:
½ cup mascarpone cheese
½ cup (118 grams) chilled heavy or whipping cream
2 tablespoons (25 grams) granulated sugar
¼ teaspoon vanilla extract