One of the best Chocolate Peanut Butter Cake recipes around.

There's something deliciously childish about including peanut butter in a cake recipe. Deliciously childish yet a delightfully grown-up way to get a peanut butter fix.

This Chocolate Peanut Butter Cake recipe is an absolute star of a cake recipe.
As well as being utterly delicious, this cake is super-duper, amazingly rich.
Give everyone a thin slice to begin with – they can always go back for more if they can possibly fit it in.
A must for peanut butter fans.
The cake star behind this Chocolate Peanut Butter Cake is the incredibly talented Smitten Kitchen.

Chocolate Peanut Butter Cake Recipe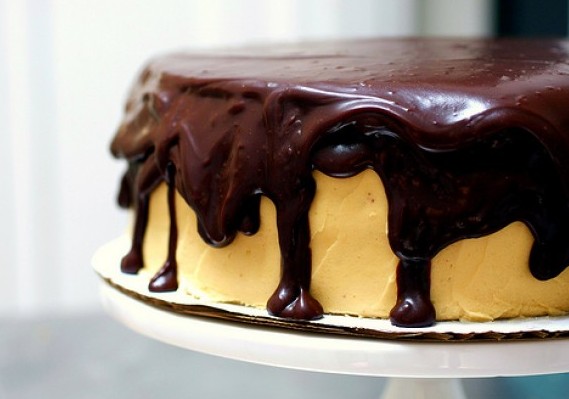 Ingredients
For the Cake:
2 cups all-purpose flour
2½ cups sugar
¾ cup unsweetened cocoa powder
2 teaspoons baking soda
1 teaspoon salt
1 cup neutral vegetable oil
1 cup sour cream
1½ cups water
2 tablespoons distilled white vinegar
1 teaspoon vanilla extract
2 eggs
For the Peanut Butter Frosting:
10 ounces cream cheese, at room temperature
1 stick (4 ounces) unsalted butter, at room temperature
5 cups confectioners' sugar, sifted
⅔ cup smooth peanut butter
For the Chocolate-Peanut Butter Glaze:
8 ounces semisweet chocolate, coarsely chopped
3 tablespoons smooth peanut butter
2 tablespoons light corn syrup
½ cup half-and-half (milk/cream)