It seems no one can decide what a traditional recipe for Victoria Sponge actually involves.

For me, Victoria Sponge Cake, involves light sponge cake layers with lashings and lashings of whipped cream, berry jam and a dusting of icing sugar – that's my idea of a classic Victoria Sponge.

But in the eyes of some purists, cream has no part in a traditional Victoria Sponge Cake. And sugar crystals, not icing sugar, should be sprinkled on top. Plus traditional Victoria Sponges use raspberry jam only.
Guess my version's not so classic after all.
And there's even debate about what this style of cake is actually called. See it's also known as a Victoria Sandwich.
The only thing that seems to be agreed upon is that this treat was not only preferred by Queen Victoria but named after her too. History has never tasted so good.
So I was even more perplexed when I came across this lovely recipe which uses a sweetened butter filling – along with raspberry jam and icing sugar. I loved the idea of a butter filling, after all, butter is made by churning cream and you end up with a filling that has a firmer texture.
It also works well with the idea of this cake being a "sandwich".
Of course, use cream if you prefer and any type of jam will do as long as it's a good quality one.
This Victoria Sponge Cake recipe is from the always delicious Your Home Based Mom.

Perhaps I can tempt you with these other Victoria Sponge Cake recipes? A delicious Chocolate Victoria Sponge or perhaps this Victoria Sponge with Lemon Passionfruit Curd.

Recipe for Victoria Sponge Cake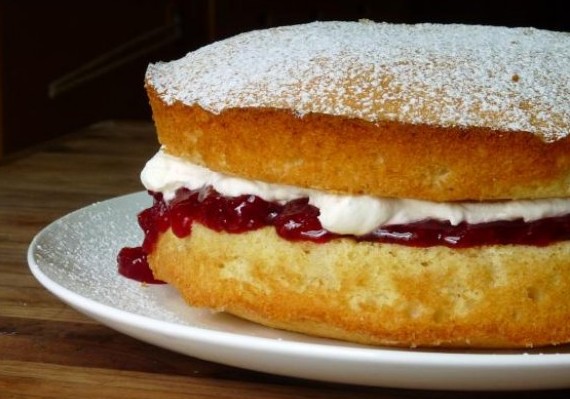 Ingredients
For the Sponge Cake:
1 C caster (super fine baking) sugar
14 Tbsp butter, softened
4 eggs, beaten
1½ C plus 1 Tbsp plus 2 tsp, self raising flour, sifted
1 tsp baking powder
2 Tbsp milk
For the Filling:
½ C butter, softened
1½ C powdered sugar
½ tsp vanilla extract
1 C raspberry jam
powdered sugar to sprinkle on top