Holy-moly this decadent baked chocolate cheesecake is great!
Ultra rich, super chocolatey, deliciously cheesecakey – pure, utter, indulgent, decadence.
With a chocolate biscuit base, 10 ounces of bittersweet chocolate, 32 ounces of cream cheese, cocoa, and more chocolate and cream for the topping this is a serious cheesecake.
When I first found this recipe, I just couldn't stop thinking about it (I do tend to obsess about things like this). I just had to make it and when I did, I'm pleased to report that it lived up to my (very) high expectations.
My advice, just go ahead and make it – it's worth it. Very very worth it.
This Decadent Chocolate Cheesecake recipe is brought to you by the wickedly good Mel's Kitchen Café.
Or perhaps I can tempt you with this amazing Snickers Cake recipe? It's one of our most popular cakes. I think you can see why can't you…

Decadent Baked Chocolate Cheesecake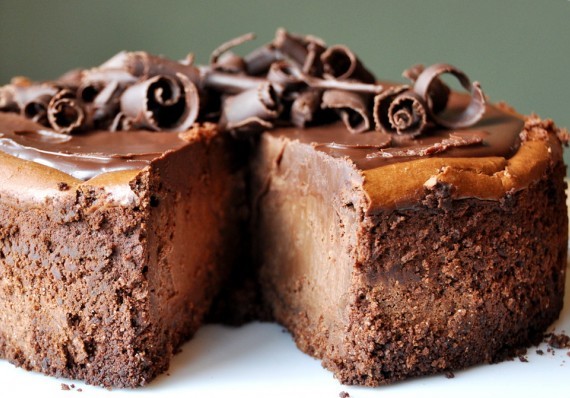 Ingredients
For the chocolate biscuit base:
9-ounce package of chocolate cookies
1 tablespoon sugar
6 tablespoons butter, melted
For the Filling:
10 ounces semisweet or bittersweet chocolate, chopped (such as Ghirardelli)
4 (8-ounce) packages cream cheese, room temperature
1¼ cups plus 2 tablespoons sugar
¼ cup unsweetened cocoa powder
4 large eggs
For the Topping:
¾ cup whipping cream
6 ounces semisweet or bittersweet chocolate, chopped
1 tablespoon sugar
Chocolate curls for garnish