A Walnut Cake recipe where the flavor of walnuts really shines.
If you're nuts for walnuts, you'll love this cake.
Most cake recipes use walnuts with something else – maple walnut, chocolate walnut, carrot walnut, banana walnut, apple walnut, and so on.
But in this terrific recipe, walnuts are the undisputed star. There are walnuts in the cake and walnuts in the creamy filling.
The filling also has a touch of cognac for extra richness.
Oh, did I mention this Walnut Cake is gluten-free?
If you need further convincing, this Walnut Cake recipe has stood the test of time. According to John at Kitchen Riffs, this particular recipe for rolled walnut cake dates back to at least the 1950s. Any cake recipe that has been around that long must be good.
This great Walnut Cake recipe is shared by Kitchen Riffs.
Or if you're looking for more nutty cake delights, may I suggest this lovely Pistachio Cake.

Walnut Cake Recipe - Walnut Roll Cake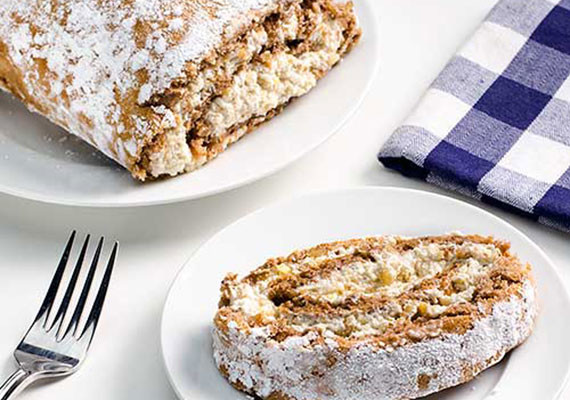 Ingredients
For the Walnut Cake:
5 or 6 eggs, separated, preferably at room temperature
5½ ounces (~1½ cups) ground walnuts
½ cup sugar
pinch of salt
½ teaspoon baking powder
~1 tablespoon butter for greasing baking pan
For the Walnut Filling:
6½ ounces (~1¾ cups) ground walnuts
½ cup warm milk
¼ pound (1 stick) unsalted butter
⅔ cup sugar
2 tablespoons Cognac
1 cup heavy cream, whipped
For the garnish:
Confectioner's (powdered) sugar (½ cup or so)
Sprigs of mint and/or berries (optional)