An easy Pineapple Cake recipe where pineapple is the star.

This recipe caught my eye as you don't see many pineapple cake recipes that aren't upside-down cakes (not that we don't love pineapple upside-down cakes mind you).
With this cake recipe, pineapple certainly takes center stage.
This is a sweet and dense, single-layered pineapple cake dressed up with a cream cheese frosting. The tang of the cream cheese provides the perfect balance to the sweetness of the crushed pineapple.
And as far as cake recipes go, this is as easy as it gets. It takes no time at all to whip up – you'll probably have the cake ingredients in your pantry right now.
The always lovely Sweet Treats and More shares this easy Pineapple Cake recipe.
For other pineapple cake treats, this layered Pineapple Upside-down Cake is a great new twist on a retro cake.

Pineapple Cake Recipe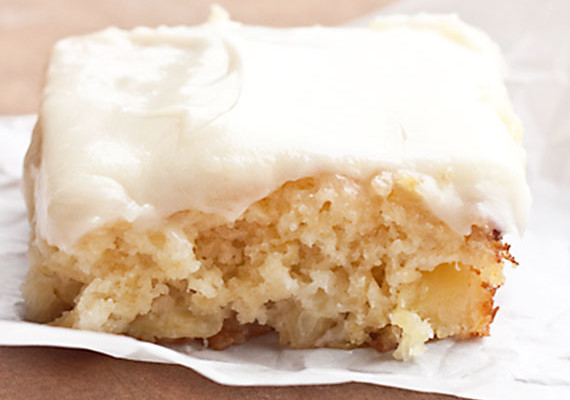 Ingredients
For the Cake:
2 cups flour
2 cups sugar
2 eggs
1 (20 oz) can crushed pineapple
1 tsp vanilla
1 tsp baking soda
pinch of salt
1 cup chopped nuts (optional)
For the Cream Cheese Frosting:
1 stick butter
8 oz cream cheese
1¾ cup powdered sugar
1 tsp vanilla