This no-bake fruit cake recipe is a winner. With dried figs, dates and almonds this recipe is so easy for such an impressive and tasty result.

The dates give this cake a lovely fudgey texture and a fruity caramel-like taste. The splash of vanilla and Cognac add to the richness of the dried fruits.
I have quite a few date cake recipes and as well as dried fig recipes but I didn't have a cake that brought these lovely fruits together. Not having to bake it was a added bonus too.
The combination of dried fruits and a splash of cognac means that this cake would work fantastically well with a cheese plate.
And it's a safe bet if you are entertaining as it's gluten and dairy free and made without egg.
The cake superstar behind this No-Bake Fruit Cake creation is Eva at Adventures in Cooking.
Not quite the fig, date and nut cake you were looking for? How about this fabulously fruity Fruit and Nut Cake recipe?

No-bake Fruit Cake Recipe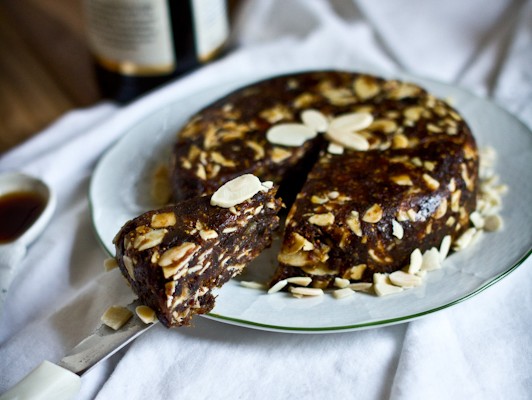 Ingredients
2 Cups Dried Figs
2 Cups Dried Dates
½ Cup Roasted Sliced Almonds
1 Tablespoon Vanilla Extract
1 Tablespoon Cognac
1 Teaspoon Sea Salt
Instructions
For the full recipe please visit: http://www.adventures-in-cooking.com/2012/05/date-fig-almond-cake-with-sea-salt.html