This Chocolate Kahlua Cake couldn't get any easier – or any more delicious. And listen to this – there are only five ingredients here; butter, eggs, brown sugar, chocolate and Kahlua. Five! That's it!
Isn't it amazing that five simple ingredients can produce a phenomenal cake like this.
But with a pound of butter and 16 ounces of chocolate, this is a rich, flourless chocolate cake with a silky texture that will make everyone swoon. Serve with cream or ice cream and berries and sit back to accept the compliments. There will be many.
And for those of you who would prefer an alcohol free version of this cake you can substitute espresso for Kahlua.
The very talented Liz at That Skinny Chic Can Bake shares her wonderful Chocolate Kahlua Cake recipe.

Chocolate Kahlua Cake Recipe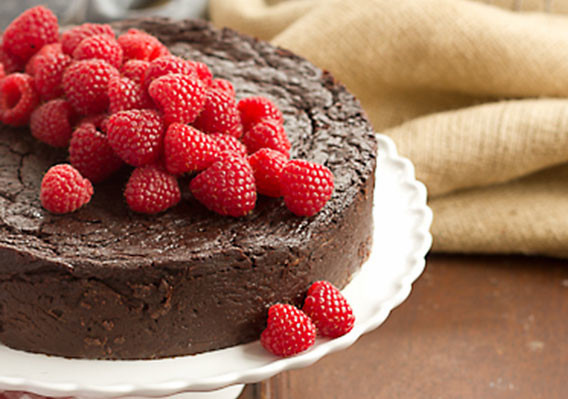 Ingredients
For the cake:
12 ounces semisweet chocolate, chopped
4 ounces unsweetened chocolate, chopped
1 pound (4 sticks) butter, cut into pieces
1 cup Kahlua (or espresso)
1 cup brown sugar
8 large eggs,
To Serve:
Fresh raspberries
Whipped cream or ice-cream