Delightful, moist, almond cake topped with luscious peaches and mulberries. A taste and colour explosion.

It's great to see a cake recipe using mulberries. Their colour and flavour is so intense when they are baked. And while there seemed to be at least one mulberry tree on each street when I was growing up, these days they're not always easy to find.
The beauty of this recipe is that if you don't have mulberries you can play around with whatever takes your fancy for a topping.
Perfect for a special afternoon tea. Or perhaps an indulgent breakfast.
Gluten free too.
The cake guru behind this Peach and Mulberry Cake is My Darling Lemon Thyme.

Peach and Mulberry Cake (Gluten Free)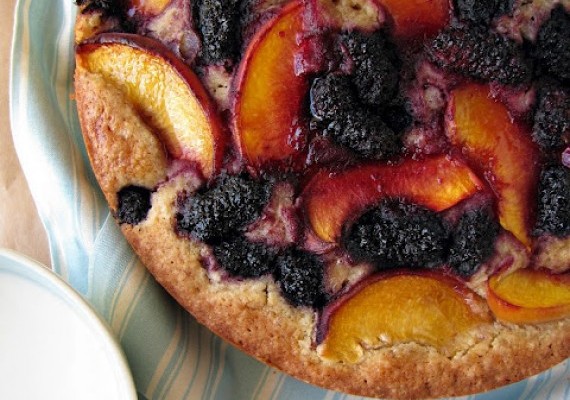 Ingredients
125 g soft butter or dairy-free margarine
1 cup (200g) raw sugar
1 teaspoon pure vanilla essence
zest of 1 lemon
2 eggs
¾ cup (90g) fine brown rice flour
¾ cup (75g) almond meal (ground almonds)
⅓ cup (50g) potato flour (potato starch)
1½ teaspoons gluten-free baking powder
2 tablespoons almond milk (or any other milk of your choice)
1 large golden peach, finely sliced
1 cup mulberries or other berry (fresh or frozen)
Happy baking!