A Turtle Cheesecake recipe that will cement your reputation as a baker extraordinaire.

And it hardly seems fair really because while it may be show-stoppingly good, this Turtle Cheesecake is incredibly easy to make (but no one ever needs to know that now do they?)

All they'll remember is how unbelievable tempting and how utterly delicious your Turtle Cheesecake is.

All they'll think about is the creamy and smooth baked cheesecake, the Oreo chocolate biscuit base, the layer of luscious homemade caramel, the rich dark chocolate drizzle, even more caramel sauce and pecans.
Seriously – who could resist this? Who could forget this?
The only issue I see with this Turtle Cheesecake is that your friends and family may never request any other cake ever again!
This sinfully good Turtle Cheesecake is shared by Barefeet In The Kitchen.
If you're looking for more extraordinary cheesecake recipes, pop on over to our Cheesecake Recipes Collection. Prepare to swoon…

Turtle Cheesecake Recipe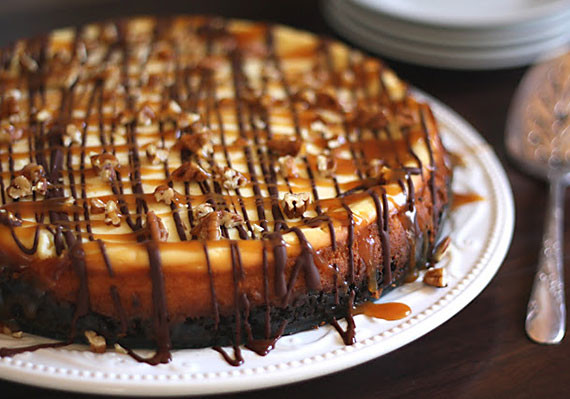 Ingredients
For the Turtle Cheesecake:
12 Oreo chocolate sandwich cookies, about 1 cup finely crushed
3 tablespoons butter, melted
¾ cup homemade caramel sauce,
3 (8 ounce) packages of cream cheese
¾ cup sugar
1 tablespoon vanilla
3 eggs
¼ cup dark chocolate or semi sweet chocolate chips, melted
¼ cup chopped pecans, toasted if desired
For the Homemade Caramel Sauce:
1 cup sugar
¼ water
½ cup butter
½ cup heavy cream
1 teaspoon vanilla
pinch of kosher salt