A lovely Greek Yogurt Cake recipe. Simple – but absolutely perfect.

With a generous cup of Greek yogurt, this cake has a rich moistness without being too heavy.
I've often wondered about the difference between Greek yogurt and regular yogurt. I decided to investigate a little.
Turns out that Greek yogurt is much higher in protein than regular yogurt and has almost half the salt and carbs (not that I'm anti carb – this is a cake website after all).
Sounding pretty healthy about now isn't it?
Where Greek yogurt packs an unwanted punch is in the fat content. I hate to tell you this, but it's right up there with chocolate bars my friends.
But don't let that turn you off it. If you're opting for Greek yogurt and are concerned about the fat content, just to stick to the reduced fat versions – which is what this Greek Yogurt Cake recipe uses. See – we're back to this cake being health food (well sort of).
Health food or not, this is a delicious cake which is quick and easy too. Add your own toppings if you please, or it's perfect just by itself.
The very clever Food Gal shares her recipe for this Greek Yogurt Cake.
You might remember another international yogurt cake here a while ago, a French Yogurt Cake with a gorgeous cararmelized peach topping. Although a "French" yogurt cake, it too uses Greek yogurt. Go figure…

Greek Yogurt Cake Recipe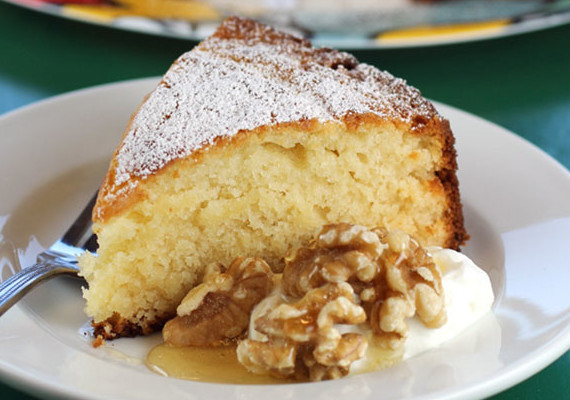 Ingredients
For the Greek Yogurt Cake:
2 cups all-purpose flour
2 teaspoons baking powder
½ teaspoon baking soda
½ teaspoon coarse salt
1 cup fat-free Greek yogurt
¼ cup honey
12 tablespoons (1½ sticks) unsalted butter, at room temperature
1 cup sugar
3 large eggs, at room temperature
1 teaspoon pure vanilla extract
For garnish:
Walnuts (optional)
Extra Greek yogurt for garnish (optional)