Have a look at this phenomenal Baked Raspberry Cheesecake.
With two and a half pounds of cream cheese, it's no wonder it's so good.
This lovely homemade cheesecake is a knock-out. Tastes divine and looks sensational too.
And an added bonus, there's no water bath necessary in case that usually puts you off baking your own cheesecakes.
The extremely talented Oui, Chef shares this classic Baked Raspberry Cheesecake Recipe.
Looking for more delicious cheesecake recipes? The Answer Is Cake has many to share. Why not take a peek at our Cheesecake Recipe Collection? You know you want to…

Baked Raspberry Cheesecake Recipe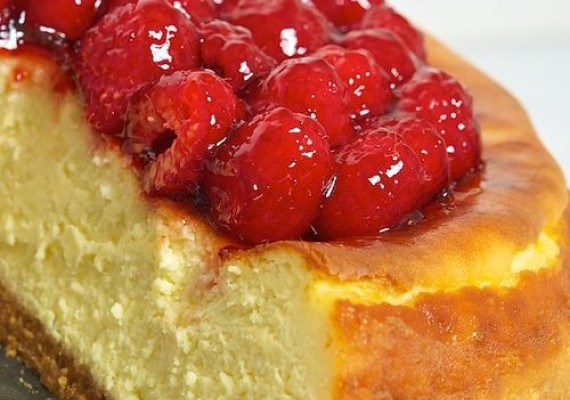 Ingredients
For the crust:
1½ cups graham cracker crumbs (10 crackers)
1 tablespoons sugar
6 tablespoons (3/4 stick) unsalted butter, melted
For the filling:
2½ pounds cream cheese, at room temperature
1½ cups sugar
5 whole extra-large eggs, at room temperature
2 extra-large egg yolks, at room temperature
¼ cup sour cream
1 tablespoon grated lemon zest (2 lemons)
1½ teaspoons pure vanilla extract
For the topping:
1 cup red currant jelly (not jam)
1½ pints fresh raspberries