This Cream Cheese Coffee Cake is another super easy and incredibly delicious coffee cake recipe.
My favorite part of this coffee cake is the swirl of sweetened tangy cream cheese in the middle.
It's a little like a layer of cheesecake running through the center – but much easier to make.
And what's a coffee cake without a crumbly streusel topping? Here a simple sugar, flour and butter streusel topping gives a lovely texture contrast. Add a sweet milky glaze to finish and this is a coffee cake that's guaranteed to please.
Although there are four parts to this recipe (the filling, the cake, the streusel, the glaze) it's all very, very, easy. Why wouldn't you make it?
One thing that this Cream Cheese Coffee Cake doesn't have in it is any coffee. It's a "coffee" style of cake, in that it goes very well with a cup of coffee.
The very talented Kim at Just Baked By Me shares this wonderful Cream Cheese Coffee Cake recipe.

Cream Cheese Coffee Cake Recipe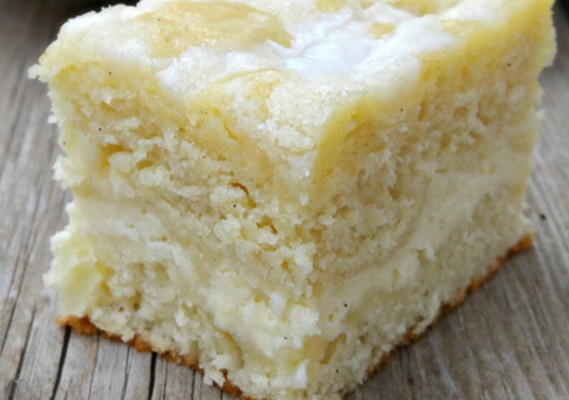 Ingredients
For the filling:
Two 8 oz. packages cream cheese, softened (light or regular)
½ cup sugar
½ teaspoon vanilla extract
1 large egg
For the cake:
3 cups all-purpose flour
1 teaspoon baking powder
½ teaspoon baking soda
½ teaspoon salt
½ cup (1 stick) unsalted butter, softened
1 cup sugar
4 large eggs
1 teaspoon vanilla extract
1 cup sour cream (light or regular)
For the streusel topping:
¼ cup sugar
¼ cup flour
3 tablespoons butter, chilled and cubed
For the glaze:
¼ cup confectioners' sugar
1 ½ teaspoons milk