For lovers of strawberries. And white chocolate. And buttercream. And cake.
That covers just about everyone doesn't it?
The use of evaporated milk in the cake gives it a gorgeous sweetness. Add to this a vanilla frosting bursting with pieces of fresh strawberries and an indulgent white chocolate ganache and you have a vanilla cake with a difference. Layers and layers of deliciousness.
The cake expert behind this delicious Strawberry White Chocolate Buttercream Cake is Rock Recipes.

Strawberry White Chocolate Buttercream Cake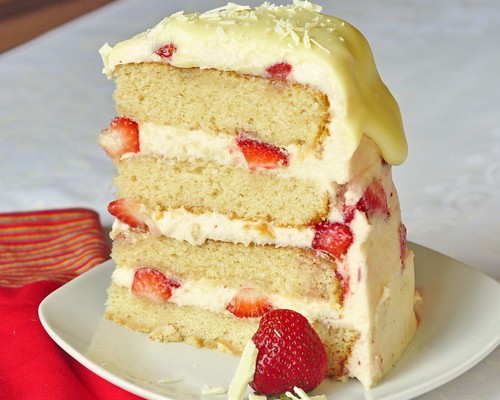 Ingredients
For the Vanilla Cake:
1 & ½ cups cake and pastry flour
1 & ¼ cups all-purpose flour
2½ tsp baking powder
¼ tsp salt
1 cup unsalted butter, at room temperature
2 cups sugar
4 eggs at room temperature
4 teaspoons vanilla extract
1 cup undiluted evaporated milk
For the Frosting:
8 cups icing sugar (i.e. powdered sugar, confectioners sugar)
2 cups butter
4 tsp vanilla extract
Approximately 6 tbsp milk
3 cups diced fresh strawberries
For the White Chocolate Ganache Glaze:
1⅓ cups white chocolate chips (or 8 ounces chopped white chocolate)
¼ cup whipping cream