The world went a little bit nutso for Chocolate Fridge Cake after the British Royal Wedding. No-bake Chocolate Biscuit Cake recipes were absolutely everywhere.

Like everything that gets over exposed, I think we all became jaded by Chocolate Fridge Cakes. I certainly did, which is not really fair. This is such a great type of cake to make, utterly delicious and so very easy – perfect to whip up in a hurry. There are good reasons these cakes have been around for years and years.
But now enough time has passed to revisit the humble No Bake Chocolate Fridge Cake. And this splendid recipe is just the place to start.
This Chocolate Fridge Cake recipe is pretty much as simple as recipes like this get – digestive style biscuits in a rich chocolate ganache and a few nuts to finish. Easy. Easy. Easy.
Yo can play around with it of course, adding in anything that takes your fancy really. How about dried fruits such as cherries, prunes, pears and apricots. Or a little Nutella added to the mix never goes astray.
The baking star behind this delicious No Bake Chocolate Fridge Cake is the always wonderful Chicho's Kitchen.
Looking for more great no-bake cake recipes? How about this Snickers Cake recipe? It's another no-bake cake masterpiece and one of our most popular cakes. I think you can see why can't you.

No Bake Chocolate Fridge Cake Recipe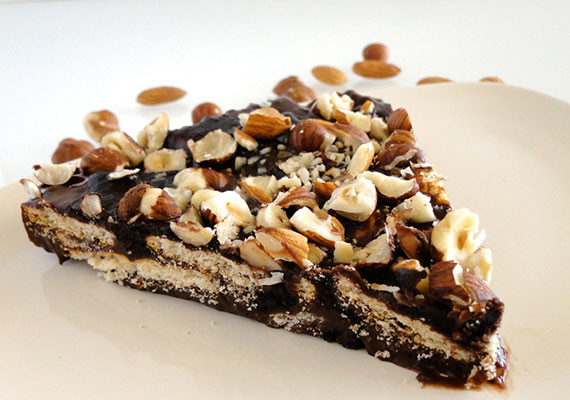 Ingredients
200 g (7 oz) tea biscuits (such as McVitie's brand)
85 g (6 tbsp) unsalted butter
400 g (14 oz) bittersweet chocolate
23 cl (1 cup) heavy cream
½ cup hazelnuts and almonds, chopped