This delicious toffee cheesecake recipe with caramel is just showing off.

It's a creamy caramel cheesecake on a toffee crust, with a layer of milk chocolate and topped with crunchy toffee, thick caramel sauce and cream.
With inspired combinations of tastes and textures, this toffee caramel cheesecake is great for a dinner party or special occasion.
Because of all of the different elements, it does take a little time and organisation to pull it all together but no step is difficult. Just leave yourself enough time and you'll be absolutely fine.
And this toffee crunch cheesecake is so worth it. Do yourself, and anyone you're willing to share this with, a huge favour and make this. Today.
The cake whiz responsible for this fantastic Toffee Cheesecake recipe is Yammie's Noshery.

Toffee Cheesecake Recipe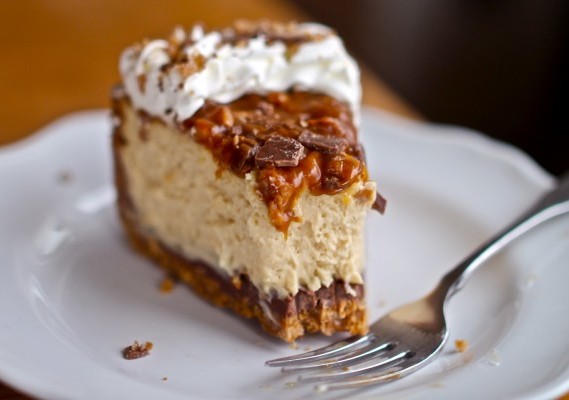 Ingredients
For the Crust:
3 cups graham cracker crumbs
½ cup toffee bits
pinch salt
½ cup brown sugar
2 sticks butter (1 cup), melted
1¼ chocolate chips
For the Filling:
3 packages cream cheese, softened
1 cup sour cream
1½ cups sugar
1 tablespoon vanilla
¼ cup Homemade Caramel Sauce
4 eggs, lightly beaten
For the Topping:
1 cup whipping cream
3 tablespoons powdered sugar
½ cup caramel
½ cup toffee bits, plus more for garnish
For the Homemade Caramel Sauce:
½ cups sugar
2 tablespoons light corn syrup
3 tablespoons butter
⅓ cup heavy cream

Happy Baking!

Are you looking for more inspiring cheesecake recipes like this one? The Answer Is Cake has many tempting recipes to choose from in our Cheesecake Recipe Collection. Prepare to swoon my cheesecake-loving friends.