This gorgeous Cinnamon Cake recipe is all about contrasts – complimentary contrasts.
With a spicy cinnamon cake, rich glaze, and sweet juicy pear compote, this is a great cake for cooler weather.
The cinnamon cake itself is is deep, dark and delicious. The cinnamon gives the cake a lovely spice which is quite warming. The touch of rum in the glaze adds a little extra warmth too.
The warm pear compote is utterly divine with fresh pears, brown sugar, cinnamon, cardamom (or ginger), lemon and vanilla. It would work very well on other desserts and even spooned over vanilla ice-cream. You might consider adding another dash of rum to the pear compote for an adults version.
This cake is all about contrasts of flavours, aromas, textures and temperatures. The spicy cinnamon cake, the dark rich glaze, the sweet juicy pear compote. Serving the cake with cream or ice-cream adds to these contrasts. A wonderful wintery cake treat.
This wonderful Cinnamon Cake is brought to you by Radishes and Rhubarb.
If you're a fan of cinnamon cake recipes you'll love this Apple Cinnamon Cake.

Cinnamon Cake Recipe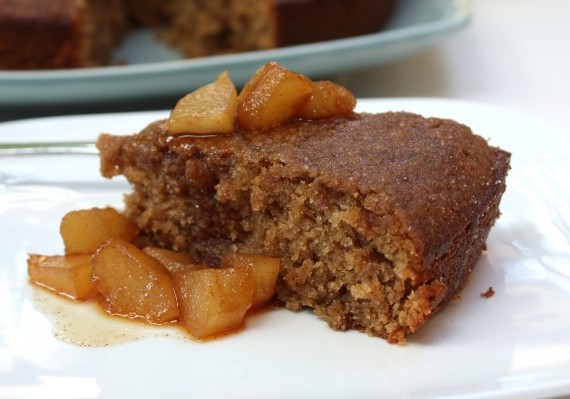 Ingredients
For the Cinnamon Cake:
1½ cups all purpose flour
2 tsp of ground cinnamon or ginger
1 tsp baking powder
½ tsp baking soda
½ tsp salt
½ cup of butter, softened
1 cup packed brown sugar
1 egg
2 tsp vanilla
1 cup sour cream or plain yogurt
For the Glaze:
2 tbsp packed brown sugar
Pinch of ground cinnamon
2 tbsp of amber rum
For the Warm Pear Compote:
4 large firm Bartlett pears, peeled and diced
¼ cup packed brown sugar
¼ tsp ground cinnamon
Pinch of ground cardamom or ginger
Juice of 1 lemon
½ tsp vanilla

Happy baking!