With this Whole Orange Cake it's one delicious surprise after another.

First, it's packed with the goodness of two whole oranges that are baked into the cake. To do this, you boil the oranges and then puree the whole orange – skin and all. The puree is then added to the cake batter.

Second, there's no added sugar.

Third, there's no butter. There's no oil.

And it's cholesterol free thanks to the use of egg whites only.
But most importantly, it tastes spectacular.
It's just bursting with beautiful deep orange flavour.
The texture is amazing. The oat flour and almond meal give the cake a denseness and bite that is just perfect.
If you're looking for a healthier cake without sacrificing taste, texture or appearance, this is an absolute star recipe.
The incredibly talented Desserts with Benefits shares her wonderful Whole Orange Cake.

Whole Orange Cake Recipe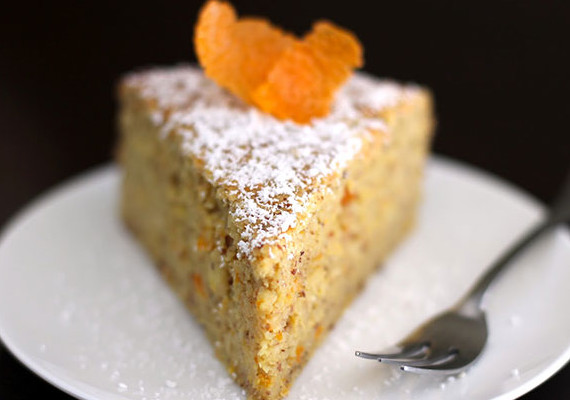 Ingredients
2 Oranges, preferably organic
1 cup Egg Whites
½ tsp Almond Flavor (optional)
192g (2 cups) Almond Flour
120g (1 cup) Oat Flour
192g (1 cup) Granulated Erythritol (or dry sweetener of choice)
2 tsp Baking Powder