Delightful Strawberry and Chocolate Cake recipe which is just gorgeous made as mini bundts or baby cakes.

This recipe lends itself to making a variety of little cakes. With a couple of separate mixing bowls you can divide your basic batter up and make all three versions quite easily.
And if you've got a variety of different shaped mini cake pans, it's time to put them all to good use in the same baking session.
The basic cake itself is moist and fluffy thanks to buttermilk and heavy cream.
For the fresh strawberry cakes, add to this mixture over 5 cups of strawberries and some strawberry jam.
You can also add in chocolate pieces for a strawberry and chocolate cake version. Or stick with straight chocolate chunks. Or plain vanilla cake. Possibilities abound.
These lovely mini bundt Strawberry and Chocolate Cakes are shared by the very talented My Invisible Crown.

Strawberry and Chocolate Cake - Mini Bundt Cakes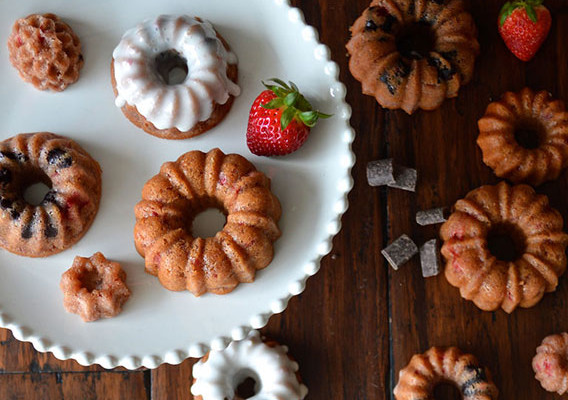 Ingredients
For the strawberry and chocolate cakes:
3½ cups cake flour
1¾ teaspoon baking powder
1 teaspoon salt
¾ teaspoon baking soda
2 sticks butter, softened
1 cup brown sugar
1 cup granulated sugar plus 2 tablespoons
¾ cup strawberry preserves
5½ cups strawberries, hulled and chopped
2 cups semi-sweet chocolate chunks (optional)
5 eggs
1 teaspoon vanilla
½ cup buttermilk
1 cup heavy cream
For the glaze:
1 cup confectioners sugar
2 or more tablespoons milk
1 tablespoon butter melted