If you enjoy a cup of green tea, you're going to love this Green Tea Pound Cake recipe.

Two tablespoons of powdered green tea – or matcha, is added to a basic pound cake recipe, with delicious and colorful results.
The bright green color is spectacular. Remember there's no food coloring here. Just matcha.
If you're not fond of overly sweet cakes, you'll probably like this green tea cake. Despite two cups of icing (confectioners' sugar) in the recipe, the green tea powder cuts through the sweetness. There's a certain earthiness to the flavor which is wonderful.
Green tea cake is popular in Asia particularly Japan, where you can get green tea in pretty much everything. Green tea ice-cream is one of my favorites, but green tea in baked goods, milky sweet drinks, candy and even alcoholic green tea cocktails is common all over Japan.
Like chai as well as green tea? Have a look at this lovely cake make from chai tea.
The very talented Milk and Honey Cafe shares this lovely Green Tea Pound Cake.

Green Tea Pound Cake Recipe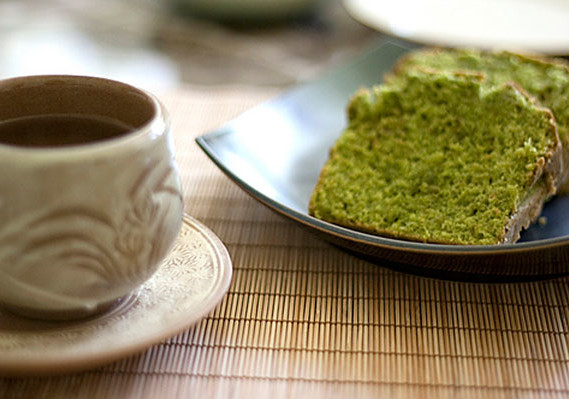 Ingredients
2 cups bleached all-purpose four
2 tablespoons Matcha green tea
2 teaspoons baking powder
2 sticks soft unsalted butter
2 cups confectioners' sugar
5 large eggs, separated
Pinch of salt