There is an phenomenal amount of chocolate in this cake recipe. There's milk chocolate, semi-sweet chocolate, dark chocolate, white chocolate and cocoa powder. There's 100% cocoa chocolate, 70% cocoa chocolate and 60% cocoa chocolate.

All of this chocolate and cocoa is turned into chocolate cake, dark chocolate filling, milk chocolate frosting, super dark chocolate ganache and white chocolate shavings. That makes for one seriously rich chocolate cake.
Not for the faint-hearted, this cake recipe will satisfy even the most die-hard chocoholics in your life.
The very talented Chasing Delicious shares this great Five Chocolates Chocolate Cake.
If you're looking for more cakes like this one, have a look at this Ultra Rich Chocolate Orange Cake. It's one of our most popular chocolate cake recipes and I'm sure you can see why.

Rich Chocolate Cake Recipe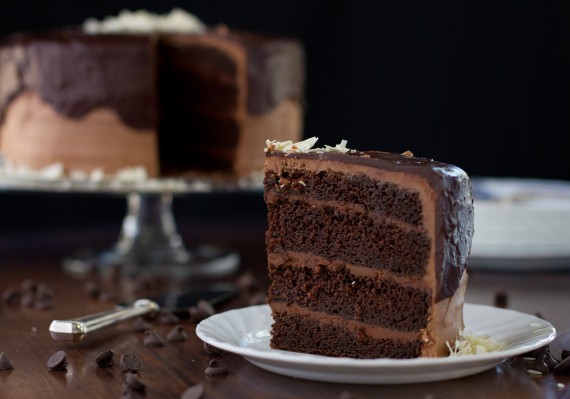 Ingredients
For the Chocolate Cake:
1 pound (2 cups plus 2½ tablespoons) sugar
3 ounces (1 cup) good unsweetened cocoa powder
6 ounces (1¼ cup) bread flour
7 ounces (1½ cup plus 1 tablespoon) cake flour
1½ teaspoon baking powder
1½ teaspoon baking soda
½ teaspoon salt
5 eggs
1½ cup buttermilk
1 cup sour cream
1 teaspoon vanilla
½ cup freshly brewed strong coffee
10 ounces (2½ sticks) butter, melted
For the Dark Chocolate Filling and Milk Chocolate Frosting:
4 ounces good milk chocolate, chopped
6 ounces good semi sweet chocolate, chopped
4 ounces good dark chocolate (60 or 70% cocoa), chopped
1 pound 4 ounces unsalted (5 sticks) butter
1 pound (4-5 cups) powdered sugar
2 teaspoons vanilla
¼ cup cream
For the Super Dark Chocolate Ganache:
1 cup heavy cream
2 ounces good 100% cocoa bar, chopped
4 ounces good dark chocolate (70% cocoa), chopped
3 ounces good semi dark chocolate (60% cocoa), chopped
For decoration:


Happy baking!