If you've never tried a Japanese Cheesecake you are in for a treat today.

"What is Japanese Cheesecake?"  I hear you ask. And "how is it different from normal cheesecakes?".

Well, Japanese Cheesecake is a cross between the more traditional dense cream cheese cheesecakes (like a New York Cheesecake) and a chiffon or sponge cake. It is a style of cake that is popular in, – yes you guessed it – Japan, but other Asian countries like Korea and throughout south-east Asia.
Japanese Cheesecake has the most beautiful texture – soft, light and airy. Every bite just melts in your mouth.
You sometimes hear these cheesecakes referred to a Cotton-Soft Cheesecakes or Cotton Japanese Cheesecakes. Think more cotton wool or cotton candy than cotton fabric.
Japanese Cheesecake tends not to be as sweet and they lack the crust of their heavier New York cousins.
How to make Japanese Cheesecake – tips for a perfect result
While utterly delicious to eat, Japanese Cheesecakes are not the easiest cakes to bake. Having a great recipe is a good place to start. This recipe from Munaty Cooking is exactly that – a really good basic Japanese Cheesecake recipe that is very reliable.
You'll see that all the ingredients are very measured and exact. And as much as I like improvising and playing around with recipes when I bake, you really can't do that with Japanese Cheesecakes – they're a little temperamental like that.
Apart from a great recipe, I think that there are a few tricks to making a successful Japanese Cheesecake and these tips are about keeping air in the cheesecake.
Actually, anything and everything you do when making a Japanese Cheesecake is about keeping the air in the cheesecake to protect the light fluffy texture of the final product.
First is the egg whites. Once you have been beating the egg whites for a while and they have a stable form, make sure you add the sugar slowly. If you add the sugar too quickly the weight will flatten the meringue, which will mean your cheesecake will be flat too.
Also, when you incorporate the egg white meringue into the other ingredients, you must fold gently. The egg whites need to be evenly mixed through but if you mix too much or too roughly you will deflate the meringue and take the air out of the cheesecake.
I also like to sieve the cream cheese before I use it. It makes it smoother and easier to combine with the other ingredients, and again, sieving the cream cheese adds a little more air into the mixture.
The other trick with this cake is it needs to be cooled gradually in the oven. You do this by leaving the oven door ajar. Sudden changes in temperature will result in the Japanese Cheesecake deflating. Try keeping the over door ajar by using a rolling pin or a wooden spoon to keep it open a little.
This great Japanese Cheesecake recipe is shared with love by the very talented Muna at Munaty Cooking.
Or if it's a more traditional cheesecake recipe you're after today, pop over to our Cheesecake Recipe Collection. For a little more Japanese baking inspiration, these little Chocolate Mochi Cakes are a delicious delight.

Japanese Cheesecake Recipe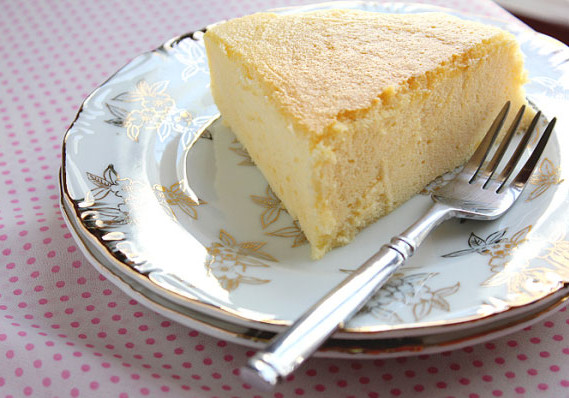 Ingredients
11 tablespoons cream cheese
2 tablespoons melted butter
8½ tablespoons milk
2¾ tablespoon all purpose flour
2 tablespoons corn flour (corn starch)
Pinch of salt
½ teaspoon vanilla
4 medium eggs (Separate the whites from the yolks)
8 tablespoons sugar