Indulge your sweet tooth with this fabulous Turtle Cake.
If you were looking for "ninja turtle cakes" or a cake in the shape of a sea turtle, I'm sorry to have to disappoint you.
The Turtle Cake we offer here is a chocolatey, pecan, caramel delight named after Turtle Chocolates.
A rich dark chocolate cake, with the "turtle" elements of pecans, caramel, chocolate and a ganache for good measure. This is an easy Turtle Cake recipe too – no layers involved.
This great Turtle Cake recipe is from the always delicious Sugar Plum Blog.
Would you like another Turtle Cake recipe to make you swoon? Take a look at this decadent Turtle Cheesecake (again, no sea creatures involved).

Turtle Cake Recipe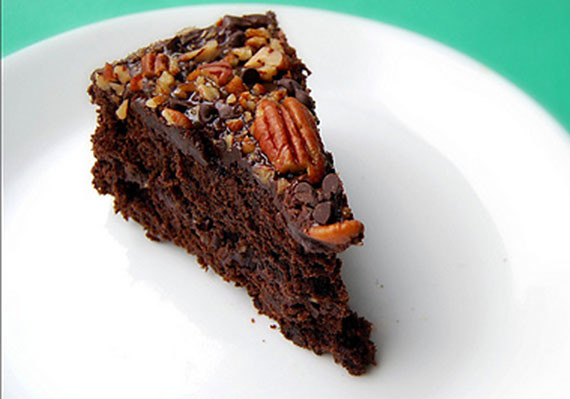 Ingredients
For the Turtle Cake:
1½ cups all-purpose flour
⅓ cup dark or regular cocoa powder
2¼ teaspoons baking powder
½ teaspoon salt
¾ cup unsalted butter, softened
¾ cup firmly packed brown sugar
½ cup granulated sugar
1 teaspoon vanilla extract
3 large eggs
1 cup dark or semi-sweet chocolate chips, melted
1⅓ cups whole milk
To finish:
¼ cup unsalted butter
⅔ cup heavy cream
2 cups dark or semi-sweet chocolate chips
1½ cups finely chopped pecans, toasted, plus additional whole pecans for decorating
1 tablespoon mini chocolate chips (optional)
Caramel sauce