This is one of the best Red Velvet Cake recipes I've found. In fact, I would go as far to say this is very possibly The Perfect Red Velvet Cake Recipe – big call I know.

What makes this Red Velvet Cake stand out above all others for me is that is extremely moist and the cake is incredibly tender. And cream cheese frosting and Red Velvet Cake is always a winning combination in my book.
Here's a little advice when making any red velvet cake recipe.
For the best results you need a really good quality red food coloring. As with all red velvet cakes, brownies, red velvet cheesecakes, or even red velvet pancakes (yes there is such a thing), make sure you use a good quality red food colouring.
The red food colouring has to be intense enough to overcome the brown of the cocoa and give you that deep garnet shade you are looking for. Check out specialty grocers or baking suppliers. The Americolor brand is good and has a well-deserved cult following in the cake and cake decorating world. You can find it here: Americolor Super Red Food Coloring
This brilliant Red Velvet Cake recipe is from the lovely Emily at Sugar Plum Blog.
UPDATE: Sadly the Sugar Plum Blog is no more (which is a real shame as Emily was such a sweetheart). Anyway, I've included Emily's fabulous recipe below.

Red Velvet Cake Recipe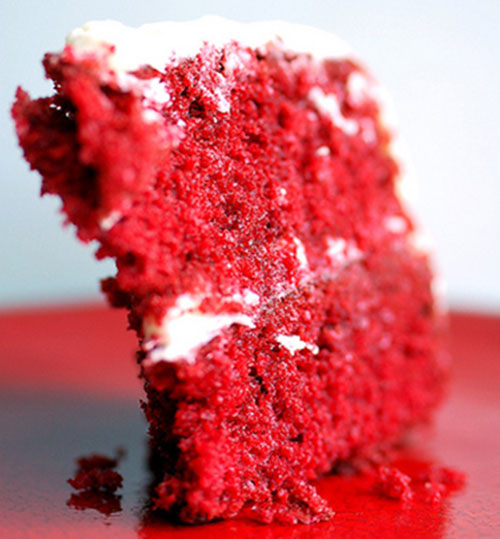 Ingredients
For the Red Velvet Cake:
2¾ cups cake flour
2 tablespoons unsweetened cocoa powder
2 teaspoons baking powder
1¼ teaspoons baking soda
½ teaspoon salt
1¼ cups buttermilk
½ cup vegetable oil
1 ( ounce) bottle red food coloring
2 teaspoons vanilla extract
½ cup unsalted butter, softened
1½ cups granulated sugar
3 large eggs
For the Cream Cheese Frosting:
1⅓ cups granulated sugar
1 cup whole milk
⅓ cup all-purpose flour
1 cup unsalted butter, softened
8 ounces (1 package) cream cheese, softened
1½ teaspoons vanilla extract
Instructions
Step 1 - preheat oven to 350 degrees F. Butter and flour 2 (9-inch) round cake pans, or spray with nonstick-flour added cooking spray.
Step 2 - In a medium sized mixing bowl, sift together cake flour, cocoa powder, baking powder, baking soda and salt; whisk until combined.
Step 3 - In a small mixing bowl, whisk together buttermilk, oil, food coloring and vanilla until combined.
Step 4 - In a large mixing bowl, using a mixer on medium speed, beat together butter and sugar until light and creamy, about 2 minutes. Beat in eggs - about 2 minutes - until well combined. Gradually beat in flour mixture, alternating with buttermilk mixture (scraping down sides of bowl occasionally), until combined; continue to beat an additional 2 minutes or until ingredients are well incorporated and batter is smooth.
Step 5 - Divide batter into prepared cake pans. Bake at 350 degrees F, for 35-40 minutes, or until center of cake springs back when lightly touched, and outer edges pull away from pan. Cool pans on a wire rack for 10 minutes; run a knife around outside edges and invert cakes onto wire racks to cool completely.
Step 6 - To make the frosting: whisk together sugar, milk and flour in a medium sized saucepan; bring to a boil over medium heat, whisking frequently. Continue to boil for 1-2 minutes, whisking constantly, until thickened; cool in the refrigerator or freezer until completely chilled.
Step 7 - In a large mixing bowl, using a mixer on medium speed, beat together butter and cream cheese until creamy, about 1-2 minutes. Beat in chilled milk mixture and vanilla, until well combined and fluffy, about 2-3 minutes.
Step 8 - To assemble the cake: spread frosting evenly over layers, sides and top of cake.
Makes 12 servings