The Cheesecake Factory Red Velvet Cheesecake recipe is arguably the best known red velvet cheesecake around.

But check this out. It's another twist on combining red velvet cake with cheesecake, and I think you'll love it.

This is a recipe inspired by the Cheesecake Factory Red Velvet Cheesecake, and then improved upon.

Judy, the Domestic Goddess, was bowled over when she tried the original.
"It was amazing. Simply divine," she says on her blog. "Hubby and I are rarely able to to finish an entire order of cheesecake at CF, but every time we've ordered it, we devoured the entire thing."
No surprises there. It is a great cake.
But get this. Judy then embarked on a marathon process to come up with something even better. She researched dozens of cheesecake recipes – for a month – before testing four of them.
She finally settled on a winning combination – a Red Velvet Cake from Martha Stewart's cupcake book and a modified WS White Chocolate Cheesecake Recipe.
The result is fantastic. And here's the really amazing bit. Judy says this is the first cake she's baked. Wow.
A word of advice – as with all red velvet cakes or brownies, make sure you use a good quality red food coloring. The red food coloring has to be intense enough to overcome the brown of the cocoa and give you that deep garnet shade you are looking for. The Americolor brand is good and has a well-deserved cult following in the cake and cake decorating world. You can find it here: Americolor Super Red Food Coloring
The very talented Judy from Domestic Goddess Adventures shares this stunning Red Velvet Cheesecake recipe.

Red Velvet Cheesecake Recipe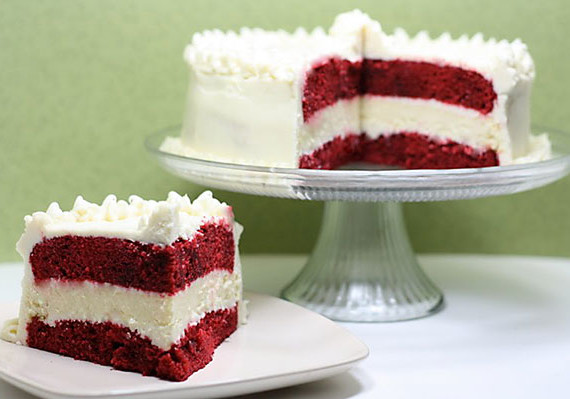 Ingredients
For the Red Velvet Cake:
2½ cups cake flour, sifted
2 tbsp unsweetened cocoa powder
1 tsp salt
1½ cups sugar
1½ cups vegetable oil
2 large eggs, room temperature
½ tsp red gel-paste food color
1 tsp pure vanilla extract
1 cup buttermilk
1½ tsp baking soda
2 tsp distilled white vinegar
For the Cheesecake:
2 oz white chocolate, chopped
16 oz cream cheese, at room temperature ( 2 packages)
½ cup + 2 Tbsp sugar
1 tbsp flour
2 eggs at room temperature
1 tsp vanilla extract
1 tbsp heavy cream
For the Cream Cheese Frosting:
24 oz cream cheese (3 packages), at room temperature
3 sticks of butter, at room temperature
3 tsp vanilla
3 cups of powdered sugar, plus more to taste

Want more Red Velvet Cake recipes? The Answer Is Cake can help you. Have a look at our Red Velvet Cake recipe collection here.

Happy baking!