A great Lemon Poppy Seed Cake recipe. 

I adore lemon poppy seed cakes – especially when they have syrup AND icing like this one does.
When you have lemon in the cake, lemon in the syrup and lemon in the icing, you know you're in for a big lemony taste.
The trick is to get the extreme lemon burst without the sourness and this recipe manages to achieve that perfectly.
And a quick word on zesting lemons. You really only want the very top, thin layer of zest. Any of the white pith will add bitterness – not what we're looking for. Ideally when you've finished zesting a lemon it should still look yellow. If it looks white, you've gone too deep. The Microplane Classic Zester
is great and has a well-deserved cult following (use a light hand though – it's still possible to go too deep with the Microplane).
This Lemon Poppy Seed Cake recipe is brought to you by Sweet Pea's Kitchen.
If lemon cakes are your idea of heaven, take a look at this list of 10 Lovely Lemon Cakes.

Lemon Poppy Seed Cake Recipe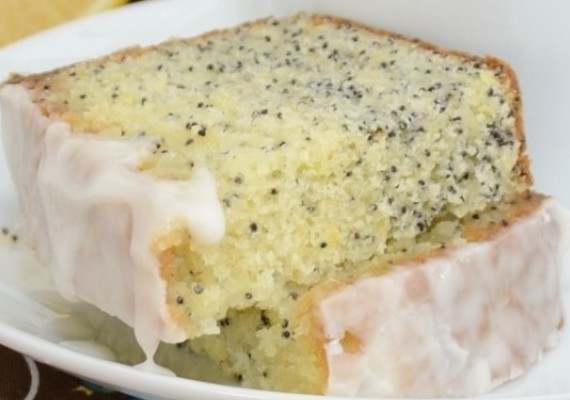 Ingredients
For the Pound Cake:
16 (2 sticks) tablespoons unsalted butter
1 ½ cups cake flour (6 ounces)
⅓ cup poppy seeds
1 teaspoon baking powder
½ teaspoon table salt
1 ¼ cups granulated sugar (8¾ ounces)
2 tablespoons grated lemon zest plus 2 teaspoons juice from 2 medium lemons
4 large eggs
1½ teaspoons vanilla extract
For the Lemon Syrup:
⅓ cup freshly squeezed lemon juice
⅓ cup sugar
For the Lemon Glaze:
1 cups confectioners' sugar, sifted
2 to 3 tablespoons fresh lemon juice