An amazing all natural Strawberry Cake recipe with a couple of secret ingredients that let you make this cake even when it's not strawberry season.
The recipe uses a combination of freeze dried strawberries as well as natural strawberry extract for both the cake and the icing.
Freeze dried strawberries give a lovely pink color and sweet flavor to both the cake and icing. It's important to use actual freeze dried strawberries, like these
from Trader Joe's, not dried (as in sun dried) or dehydrated strawberries. The freeze drying process retains more of the natural sweetness and strawberry flavor than simple dehydration and the texture is more suited to baking.
Also use a good quality natural strawberry extract to add a lovely strawberry sweetness and fragrance to this cake. Beware imitation strawberry extract – there's nothing natural there.
Pure Strawberry Extract
is essentially concentrated strawberry syrup distilled with alcohol (most "essence" and "extracts" contain alcohol). Strawberry extract is great to use in all manner of home-made strawberry cakes and desserts to intensify natural strawberry flavor. Very handy to keep in the pantry.
So even when it's not strawberry season, using freeze dried strawberries and natural strawberry extract means you can make strawberry cake through-out the year.
The recipe gives you the option of adding red or pink food coloring to the batter if you do want a pinker cake, but it's not strictly necessary – I say leave it out and stay natural.
One last thing – this is an eggless strawberry cake recipe that's also dairy free – making it suitable for vegans (both the cake and the icing). But you would never know it – basically this is just a great strawberry cake that everyone can enjoy.
This inspired Strawberry Cake recipe is baked by Josh at My Vegan Cookbook.
If you're looking for more cake recipes like this one, you might want to pop over and take a look at our collection of Strawberry Cake recipes.

Strawberry Cake Recipe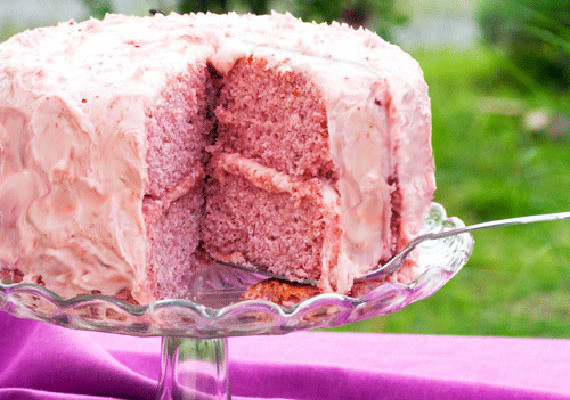 Ingredients
For the Strawberry Cake:
2 Cups Bleached Cake Flour
¾ Cup Sugar
½ Teaspoon Salt
1 & ¼ Teaspoon Baking Powder
½ Teaspoon Baking Soda
1 Cup Freeze Dried Strawberries
1 & ⅓ Cup Water
2 Tablespoons Melted Light Vegan Butter
2 Tablespoons Canola Oil
1 Teaspoon Strawberry Extract
1 Teaspoon Lemon Juice
Red or Pink Food Coloring (Optional)
For the Strawberry Icing:
1 Cup Freeze Dried Strawberries
¼ Cup vegan butter spread
1 lb (453 grams) Box Confectioners Sugar
⅛ Teaspoon Baking Soda
2 Pinches of Salt
1 Teaspoon Strawberry Extract
½ Teaspoon Lemon Juice
Almond or Soy Milk, About 3 Tablespoons + 1 Teaspoon