A gorgeous Almond Raspberry Cake that just melts in your mouth.

A light cake made without egg yolk or butter,  the cake is soft, airy and delicate. In addition to all this delicate cake loveliness, the raspberries provide a generous juicy burst of intense berry sweetness – and a pretty colour contrast.
Another bonus of this Almond Raspberry Cake is that you do it all in one bowl. Perfect.
Heed the advice of the recipe and weigh your egg whites. You need to be precise in your measurements so that you are assured of the airy lightness of the cake.
This cake reminds of of angle cake but without the dozen or so egg whites angel cake recipes usually require.
While the raspberries are absolutely fantastic here, this would be beautiful with many other berry varieties such as blueberries, mulberries or blackberries. Perhaps a mix of all of these. Vary the recipe to take advantage of whatever berries you have on hand.
This delicious Almond Raspberry Cake recipe is brought to you by the superb The Italian Dish.
If light and airy is your thing, angel cake is the lightest and airiest cake going. Have you seen this lovely Raspberry Angel Cake recipe?

Almond Raspberry Cake Recipe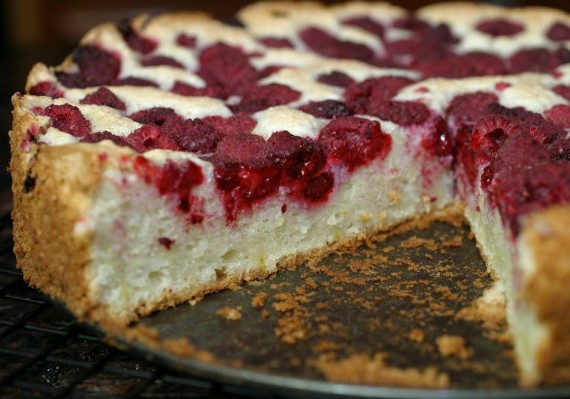 Ingredients
1 teaspoon vegetable oil for preparing the pan
1 cup egg whites (6 to 8 large)
1 cup raw sugar
a scant 2 cups almond powder or flour
grated zest of 2 lemons
3 tablespoons cornstarch
¼ teaspoon fine sea salt
2 cups fresh raspberries