This is such an easy ice-cream cake recipe it seems like cheating to include it on The Answer Is Cake.
It's hard to imagine a recipe that could be any easier yet deliver such a phenomenally delicious cake. But this ice-cream cake more than delivers.
Basically you mix together ice-cream, custard, crushed meringue, a Toblerone chocolate bar, pistachio nuts and lots of frozen raspberries. Then pop it in the freezer. That's it.
How easy – and how delicious.
The recipe even calls for low fat ice-cream and custard. Could this ice-cream cake get any better?
This is a great recipe to play around with. You have the basic framework – ice-cream and custard. Add your favourite berries, your favourite chocolate bar, your favourite nuts. Mix and match whatever you like, it's a perfectly versatile recipe where the variations are endless.
This easy ice-cream cake recipe comes from the clever people at Creative Gourmet.
Like your ice-cream cake recipes? Have you seen this delicious chocolate Oreo ice-cream cake?

Easy Ice-Cream Cake Recipe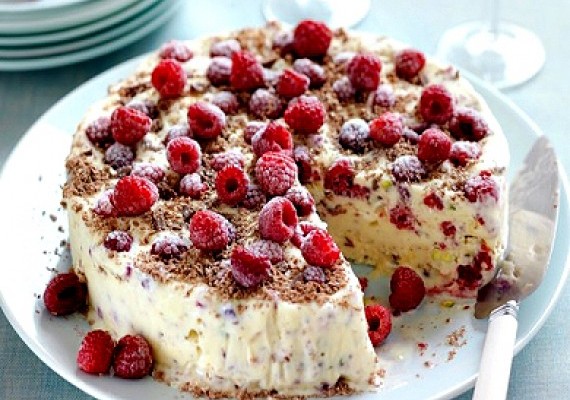 Ingredients
2 litres reduced fat vanilla ice-cream
1½ cups reduced fat pouring custard
75g meringues or pavlova nests, roughly chopped
½ cup shelled pistachio nuts, chopped
200g Toblerone chocolate bar, chopped
600gm frozen Raspberries

Happy baking!